Maison Weibel: a decadent dessert shop in Aix-en-Provence
As someone who lives in Aix-en-Provence, I've been fortunate enough to indulge in the delicious offerings of Maison Weibel, a renowned pastry restaurant and shop located in the heart of this beautiful city.
This family-run establishment has been serving exquisite pastries, chocolates, and ice cream since 1954, and I'm here to tell you that if you're ever in Aix-en-Provence, you absolutely must pay a visit to this to-die-for dessert spot.
In this article, I'll share my experiences and why I believe this is one of the best pastry shops Aix-en-Provence has to offer.
Maison Weibel: a Journey to Bliss
Maison Weibel's creations are simply irresistible, crafted with meticulous care and bursting with incredible flavors.
Their desserts are more than just treats – they're a true culinary art form.
Whether you're enjoying their signature cakes or pastries or delighting in their seasonal surprises, this pastry shop guarantees an unforgettable journey for your taste buds.
Take it from me, someone who enjoys the sinful pleasures of this amazing pastry shop with perhaps too much frequency. 😉
Maison Weibel: a bit of history
Maison Weibel Aix-en-Provence was founded in 1954 by Georges Weibel, who named the establishment "Au Péché Mignon."
The shop has been a family business ever since, with the founder's son Nicolas Weibel eventually taking over.
Nicolas, then his son Paul and now Adrien, have continued to uphold the family's dedication to quality and tradition.
The success of Maison Weibel is rooted in the family's commitment to preserving and refining their traditional recipes and techniques.
Passed down from generation to generation, these methods have allowed the Weibel family to create some of the finest pastries, chocolates, and ice cream in Aix-en-Provence.
What does Maison Weibel specialize in?
Maison Weibel specializes in typical French desserts with a south-of-France twist. Think cakes, tortes, bite-size sweet delicacies and calissons, a typical Aix-en-Provence dessert with a long history.
But they also make some of the best hot chocolate I have ever tasted. They also make pretty decent coffee and have a wide range of teas.
And they even serve ice cream!
You can enjoy their amazing offerings in their tea room, on one of their outdoor tables, or you can take their amazing desserts to go.
The Scrumptious Offerings at Maison Weibel
Cakes & Pastries
The cakes and pastry selection at Maison Weibel is second to none.
From classic French treats like Millefeuille and fresh-fruit tarts to innovative creations like their l'Aixois, there's something for everyone at this pastry shop in Aix-en-Provence.
The attention to detail in each pastry is evident, with every dessert crafted to perfection.
Chocolates
Maison Weibel Aix-en-Provence offers a wide range of artisanal chocolates developed by Nicolas Weibel.
You'll find chocolate candies, marshmallow bears and a multitude of other chocolate creations.
These decadent treats are perfect for indulging in yourself or as an elegant gift for someone special.
Ice Cream and Sorbet
In addition to their pastries and chocolates, Maison Weibel also offers a tantalizing array of artisanal ice cream and sorbets.
With flavors ranging from traditional favorites like vanilla and chocolate to more exotic options like Calisson or pistachio, there's a frozen treat for every palate.
Their sorbets are a whopping 45% fruit!
Some of the sorbet flavors you can find here are mango. Lemon and a tantalizing Ispahan – a mix of lychee, rose and raspberry: perfect for a hot day.
Beyond Dessert
Maison Weibel also offers some amazing quiches making it also a perfect place for a light lunch on a hot day when you don't feel like eating a big meal.
I have tried their quiches and as someone obsessed with trying them everywhere I go, let me tell you – theirs are very good.
Service
One of the things I love most about Maison Weibel is the warm and welcoming atmosphere. The staff is always friendly and accommodating, even at their busiest times.
In addition to their friendly demeanor, the staff at Weibel in Aix-en-Provence is also highly professional.
They take great care in crafting each pastry, chocolate, and ice cream, ensuring that every item is of the highest quality.
When you don't know what to pick they are there to help you make the right decision.
Atmosphere
Stepping into Maison Weibel is like entering a sweet haven of elegance and charm. I find the atmosphere immediately captivating, inviting me to embrace the beauty of the surroundings.
But most of the time I love to sit outside, where I can indulge in people watching while savoring the delectable desserts.
It's a wonderful experience to sip on rich hot chocolate or indulge in their beautiful desserts while surrounded by the picturesque streets of Aix-en-Provence.
There is something equally enchanting about Weibel on a winter day or during a gentle rain shower. On those occasions, I love to cozy up inside the tea room, finding warmth amidst the refined ambiance.
The tea room itself is not very large but it is adorned with tasteful decor like something right out of a French movie.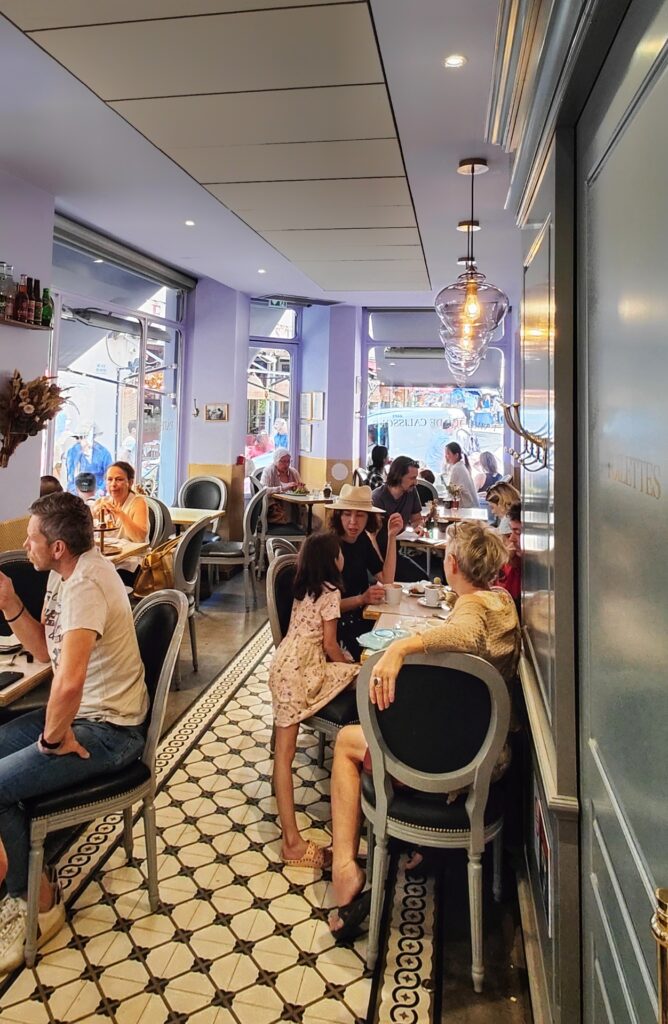 Every detail reflects the thoughtfulness and care that Maison Weibel pours into creating a truly inviting retreat.
Pricing and Value
Here are some prices from my most recent visit to Weibel in Aix:
Espresso € 1.90
Cappuccino € 4.00
Tea € 4.50 and up
Weibel Hot Chocolate € 4.90
Hot Chocolate made with Viennese Chocolate € 5.90
Tropezienne pastry € 5.20
Pavlova pastry € 5.90
Lampion (Weibel's calisson-inspired dessert) € 5.20
As a frequent visitor and devoted customer, I can confidently say that the prices reflect the craftsmanship and attention to detail that goes into their creations.
You get an excellent value for what you pay here. It is not just a dessert. It is an unforgettable experience.
Tips from someone who lives in Aix
Here are some of my tips about Maison Weibel:
To enjoy some quiet and to find a guaranteed spot, come first thing in the morning.
It gets very busy here at around 10 AM.
It is extremely busy here on market mornings.
It's a great place to get a tasty gift for someone.
They make the best bûche de Noël – amazing traditional French Christmas log cakes. You need to pre order.
If you want to try two small desserts, order Café Gourmand: a choice of coffee with two bite-size desserts.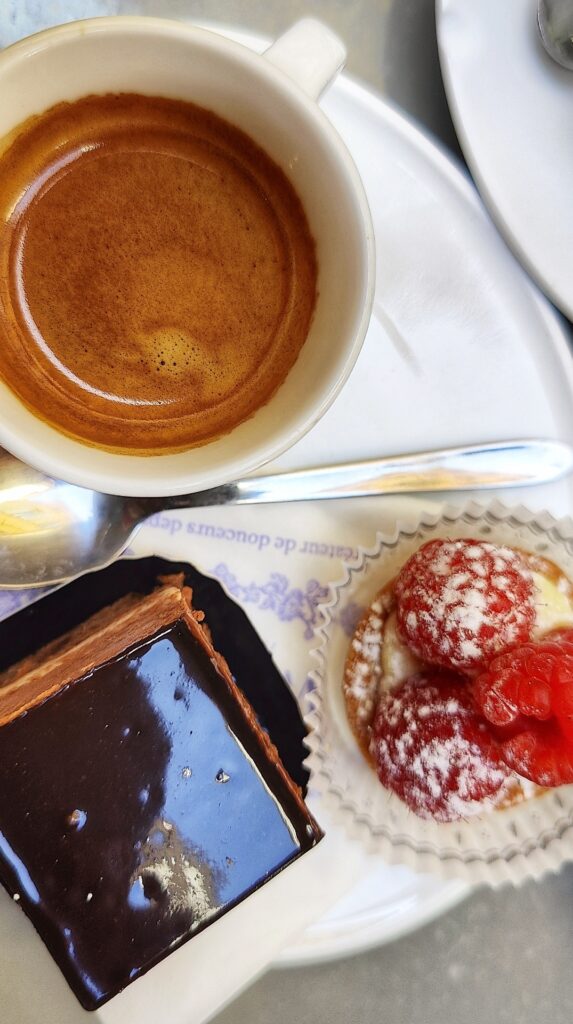 Maison Weibel: Practical Info
Here is some practical information about Weibel:
Address:
2 Rue Chabrier, 13100 Aix-en-Provence, France
Opening Hours:
Open Daily: 7:30 AM- 7:00 PM
Contact info & socials:
Tel: +33 04 42 23 33 21
Instagram: @maison_weibel
How to get there:
Maison Weibel is located in the historical center of Aix-en-Provence just steps away from my favorite coffee spot La Brûlerie Richelme.
The best way to get here is on foot from anywhere in the center. The closest parking garage is at La Rotonde.
Final Verdict: Overall Experience
If you're ever in Aix-en-Provence, a visit to Maison Weibel is an absolute must. From their rich history and commitment to quality to their vast selection of delectable pastries, chocolates, and ice cream, this family-run establishment is truly a gem in the historical center of town.
Weibel's exceptional pastries, chocolates, and ice cream have earned them a 4.4 rating on Google, with numerous glowing reviews from both locals and tourists alike.
As someone who's lived in Aix-en-Provence for a long time, I wholeheartedly agree with these high praises. And I highly recommend Maison Weibel to anyone looking for a truly exceptional pastry shop in Aix-en-Provence.
So, next time you find yourself in this beautiful city in Provence, I invite you to discover the delicious and photo-worthy desserts at Maison Weibel in Aix.