The Ultimate Guide to Aix-en-Provence by a Local (2023)
Welcome to All About Aix, your ultimate guide to Aix-en-Provence!
Hi there! Welcome to All About Aix – the best guide to Aix-en-Provence and your Provence travel guide.
I am glad you are here. And I know you are here because you are curious about Aix.
I live in Aix-en-Provence and I love this little city in the south of France. I love everything about it. I love it so much I explore just like a tourist would. And then I share all my insider tips with you right here in All About Aix.
Are you in Aix-en-Provence for one day? Are you here for just a weekend? A week? Or two? A month? A year? However long you are in Aix for – whether on holiday, for work, to study, or perhaps you have decided to move to Provence – I will guide you around my beloved town.
But before I do, let me introduce you to Aix-en-Provence.
Aix-en-Provence was founded by the Romans in 123 BC and is famous for many things including its abundant thermal waters, Paul Cézanne, vibrant art and culture scene, rosé, sunshine and easy living.
Today, Aix is one of the most important travel destinations in France.
All About Aix covers the best things to do in Aix-en-Provence. And this article is an ever-growing collection of my best tips. So keep coming back to this Aix-en-Provence travel guide as it expands with new information each month.
Things to Do in Aix
I have lived in Aix-en-Provence for many years and I am yet to run out of things to do, see and discover. This is a town that is never boring. Aix might be small but it is very cosmopolitan. So much so that some have nicknamed it the "21st arrondissement of Paris". Why?
Aix-en-Provence, even though located in the south of France, 759 km from Paris, is easily accessible from the French capital via the TGV train. This high-speed train links Aix and Paris with only a 3-hour commute, shaving off five hours from the usual driving time between the two cities.
This quick access to Aix from Paris has brought a large influx of Parisians into Provence seeking sunshine, a more relaxed vibe and an elegant neighborhood of the historical center of Aix.
Aix-en-Provence is filled with numerous cafés, high-end boutiques, great restaurants, museums and a typical Provençal yellow-stone architecture. Its many fountains dominate the cityscape giving credence to its moniker of the City of a Thousand Fountains.
No visit to Aix is complete without a walk down Cours Mirabeau. This is the best place in town for people-watching. Sit at any café or a restaurant on this street and enjoy the constant parade of interesting people strolling by.
A history buff will be always busy with layer upon layer of times past – both literally and figuratively. Beneath the streets and sidewalks of Aix-en-Provence, lie the ruins of the original Roman town.
You can see parts of the Roman past of Aix-en-Provence in different parts of the city. In front of the Palais de Justice, you can walk on the plexiglass and peer down onto an ancient Roman street.
At the entrance to Thermes Sextius, the spa adjacent to the Aquabella Hotel, you can look through the glass and admire the ancient Roman baths.
Inside the Saint-Sauveur Cathedral, you can admire the remnants of an old Roman street. History is everywhere in Aix.
Beyond ancient Roman relics, you will find structures from the Middle Ages, and later periods including the 18th century. North of the Cours Mirabeau you will find the true Old Town, with a zig zag of chaotic narrow streets. It's very easy to get lost here. And highly recommended to do so.
This part of town has the best restaurants and shops. It's here that you will find L'Hôtel de Ville (Town Hall) and Place Richelme. And the famous Aix Saint-Sauveur Cathedral is on this side of the historical center as well.
South of Cours Mirabeau, you will find the perfect square streets of the Quartier Mazarin, a neighborhood dating back to the 17th century. On this side of the Old Town, we have the Hôtel de Caumont – a museum and art center with a great restaurant, perfect for lunch, high tea or dinner.
In Quartier Mazarin, you will also find Place des Quatre Dauphins containing the fountain with four dolphins.
As you can see, there is an infinity of things to do here. So let this ultimate guide to Aix-en-Provence show you even more things to do in this gorgeous south of France town.
Where to Eat in Aix
Foodies will love Aix-en-Provence, which is known for its delicious cuisine. The traditional Provencal dishes are a must-try, including the famous ratatouille, bouillabaisse, and aioli. There are many local markets where visitors can taste the local produce, including fresh fruits, vegetables, cheese and wine.
One of my favorite wine bars in Aix is La Cave des Ours specializing in organic and biodynamic wine, craft beer and artisanal spirits. It's a great place to have an apéro with friends before dinner.
All bread lovers visiting Aix should head over to Farinoman Fou – an artisanal bakery featuring carefully selected flour, local ingredients and a unique approach to kneading dough. I guarantee you, this will be the best bread you have ever tasted.
When it comes to dining options, Aix-en-Provence has plenty to offer. Whether you're looking for a casual bistro, a Michelin-starred restaurant, or a traditional Provençal meal, you're sure to find something that suits your taste buds.
One of the most popular places to eat in Aix-en-Provence is La Fromagerie du Passage. This cozy cheese shop and bistro is located in a charming pedestrian alleyway and is known for its excellent selection of artisanal cheeses and wine. It's the perfect spot to enjoy a leisurely lunch or dinner while soaking up the ambiance of this picturesque town.
If you are looking for an upscale meal, head to Restaurant Mickaël Féval, proudly decorated with a Michelin star since 2017, and with great reviews on Google.
If you're in the mood for something sweet, then head to Maison Weibel. This elegant pastry shop has been a fixture in Aix-en-Provence since 1954 and is known for delicious desserts and the best hot chocolate I have ever tasted.
And if you want to grab a great coffee from a family-owned cafe that roasts their own coffee beans come to La Brûlerie Richelme. It's a great place to watch the farmers' market in the morning.
And if you are looking for a great French-style brunch that is open on Sundays, check out Le Tuyau, one of my favorite brunch spots in Aix.
Those of you who love sushi and Japanese cuisine, I highly recommend Restaurant Koi in Aix-en-Provence. It is my favorite and by far the best overall sushi restaurant in town.
And don't forget to try a calisson, a local cookie. One of the best recipes can be found at Le Roy René.
Whether you're looking for a casual lunch, a romantic dinner, or a sweet treat, Aix-en-Provence has plenty of options to choose from. So, grab a table, order a glass of wine, and savor the flavors of this beautiful town.
Want to know more about where to eat in Aix? Let this ultimate guide to Aix-en-Provence guide you on your culinary explorations.
Day Trips around Aix
Aix-en-Provence is also a great base from which to explore the surrounding area. There are many day trips that can be taken from the city, including visits to nearby towns such as Marseille, Arles and Avignon.
The stunning lavender fields of Valensole are also within easy reach, making Aix-en-Provence the perfect destination for a relaxing and cultural holiday.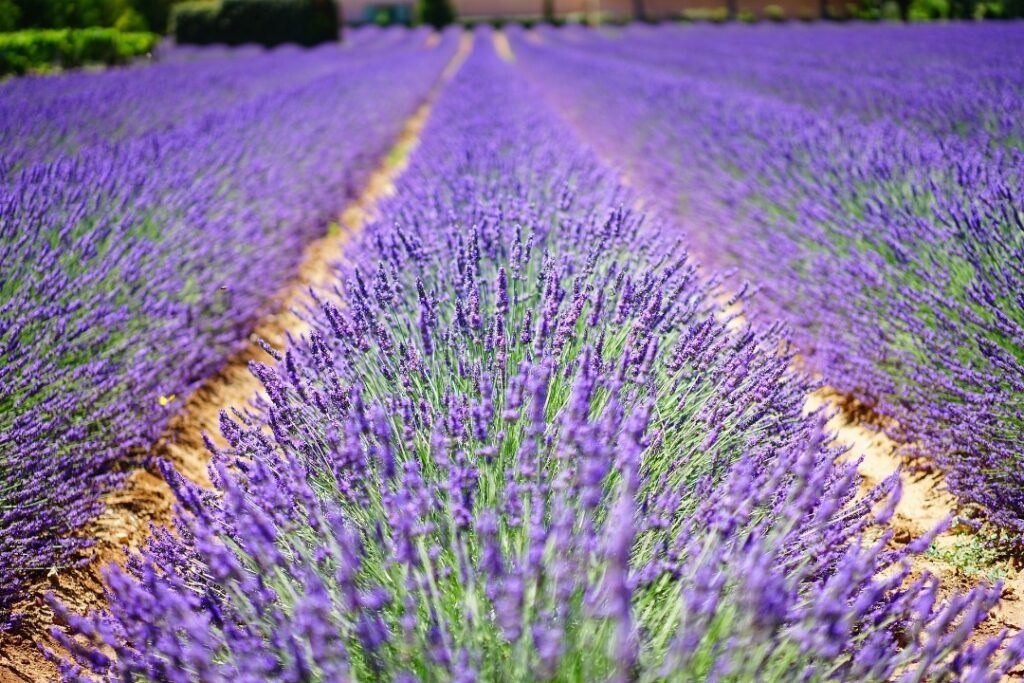 One of the most popular day trips from Aix-en-Provence is to the charming village of Cassis. Located just a short drive away, Cassis is known for its beautiful beaches, crystal-clear waters, and stunning calanques (steep walled inlets along the coast of the Mediterranean).
You can spend the day lounging on the beach, hiking along the cliffs, exploring the town or taking a boat tour.
If you're a wine lover, you won't want to miss a day trip to the nearby Luberon region. This picturesque area is famous for its vineyards, olive groves, and lavender fields.
You can spend the day visiting local wineries, tasting some of the best wines in the region, and enjoying the stunning countryside. Be sure to also visit some of the charming villages in the area, such as Gordes and Roussillon.
Overall, there are plenty of exciting day trips from this ancient capital of Provence and I have included them in this ultimate guide to Aix-en-Provence that you can take to explore the surrounding areas. Whether you're interested in history, nature, or wine, you'll find something to suit your tastes here. So, pack your bags and get ready to embark on an unforgettable adventure!
Tours in Aix
One of the most popular types of tours in Aix-en-Provence are walking tours. This type of tour is perfect for visitors who want to explore the city's historic center and learn about its rich history and culture.
The walking tours take visitors through the city's charming streets and squares, stopping at important landmarks and attractions, such as the impressive Cours Mirabeau, the iconic Saint-Sauveur Cathedral, and the beautiful Musée Granet.
For those who would rather not walk, you can instead take a touristic electric "train" around Aix. It's called Le Petit Train and it will take you on a tour around town for about 45 minutes. To reserve your spot, contact the Aix-en-Provence Tourist Office.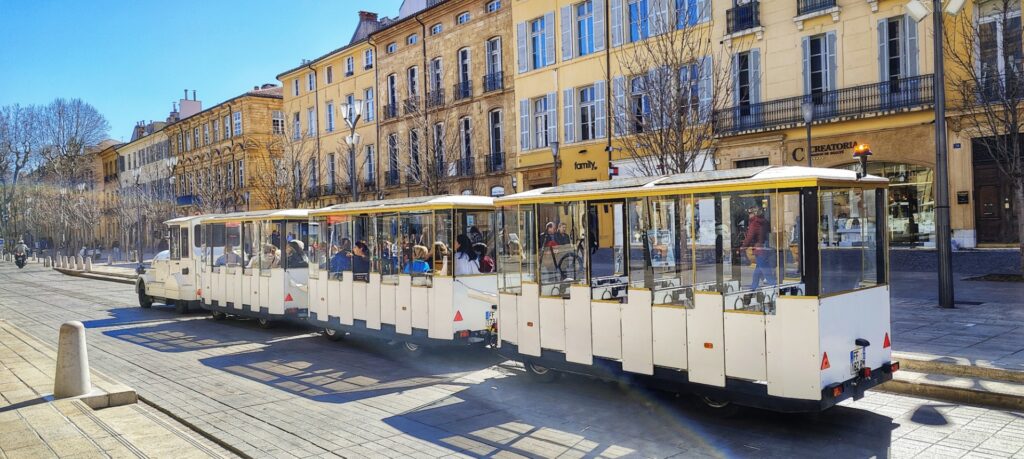 For visitors who want to explore Aix-en-Provence's art scene, there are several tours that focus on the city's museums and galleries. The Musée Granet tour offers visitors the opportunity to explore the museum's impressive collection of art and artifacts, while the Atelier Cézanne tour takes visitors to the former studio of the famous French painter, Paul Cézanne.
Whether you want to explore the historic center, the countryside, or the city's art scene, there is a tour that will suit your interests and preferences. So, if you're planning a trip to Aix-en-Provence, be sure to consider taking a tour to make the most of your visit.
Where to Stay in Aix
Aix-en-Provence has a vast array of accommodations for every taste and budget. From luxurious hotels to cozy bed and breakfasts, there is something for everyone.
One of the most popular accommodations in Aix-en-Provence is the Hôtel Le Pigonnet. This elegant hotel is located in a peaceful garden setting, not far from the city center. You can even stay at a private villa on the grounds. The hotel also has a beautiful outdoor pool, and a gourmet restaurant serving delicious French cuisine.
For those who prefer a more intimate and traditional experience, there are plenty of charming bed and breakfasts in Aix-en-Provence and a myriad of boutique hotels.
If you are on a tight budget you might have to stay a bit farther away from the historical center but there are Airbnb places for reasonable prices if you book far in advance and not during high season.
Overall, accommodations in Aix-en-Provence offer something for everyone, from luxury hotels to affordable guesthouses. Whether you are looking for a romantic getaway or a family vacation, you are sure to find the perfect place to stay in this beautiful city.
Practical Travel Tips about Aix
If you're planning a trip to Aix-en-Provence, there are a few practical tips that can make your visit even more enjoyable.
First and foremost, it's important to remember that Aix-en-Provence can get quite warm during the summer months. Be sure to pack lightweight clothing and plenty of sunscreen to protect your skin from the sun's rays. Additionally, it's a good idea to bring a refillable water bottle with you so that you can stay hydrated throughout the day. Tap water in Aix is safe to drink. But do not drink water from the fountains!
When it comes to getting around Aix-en-Provence, walking is often the easiest and most enjoyable option in the historical center. The city's narrow streets are perfect for strolling, and there are plenty of cafes and shops to stop in along the way. However, if you're traveling further afield or have mobility issues, there are also buses and taxis available.
Those with mobility issues within the historical center can hop on a tiny La Diabline bus, an electric vehicle that fits maybe six people max. For a low price, you can get around the Old Town. This is how my parents get around when they're visiting Aix.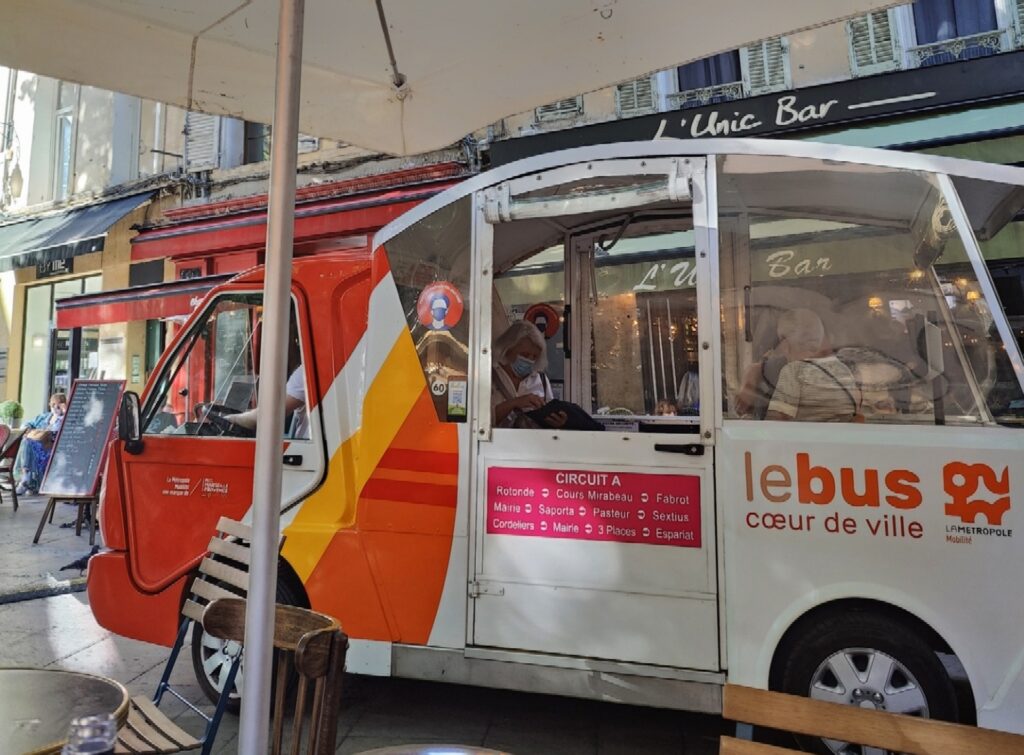 Finally, it's worth noting that Aix-en-Provence is a popular destination, particularly during the summer months. If you're planning to visit during this time, it's a good idea to book your accommodation and activities in advance to avoid disappointment. With a little planning, you're sure to have an unforgettable trip to this beautiful city.
Keep in mind a local natural phenomenon called mistral. It is a strong cold wind typical to this part of the Mediterranean. When the mistral blows, the air gets noticeably cooler. This may be a welcome reprieve during the hot season but in wintertime it makes an unpleasant difference.
Finally, if you need to call emergency services, remember this one number: 112. This is an all-encompassing emergency phone number for all of Europe. It is free to dial from any landline and cellular phone and the operators speak English.
Fin: The Ultimate Guide to Aix-en-Provence
In conclusion, Aix-en-Provence is the perfect destination for the ultimate French experience. From its unique culture and rich history, to its delicious cuisine, beautiful architecture and stunning countryside, Aix has something for everyone.
By following this ultimate guide to Aix-en-Provence written by a local, you can be sure to make the most of your time in this truly special city.
Don't forget to pack your sunscreen, walking shoes, and appetite for delicious food and wine!
See you in Aix! Bon voyage!
FAQs:
Where is Aix-en-Provence located?
Aix-en-Provence is located in the south of France, about 30 km north of Marseille and about 750 km south of Paris. 
Is Aix-en-Provence worth visiting?
Aix-en-Provence is absolutely worth visiting. It may be a small city but it has a very cosmopolitan vibe to it. It is an elegant town attracting students, tourists and international expats. There are many cultural festivals and sports events taking place in Aix throughout the year. 
What is Aix-en-Provence famous for?
Aix-en-Provence is known for many things, some of which are the Aix-Marseille University, rosé wine production in the surrounding countryside, lavender fields north of the town and the easy and elegant lifestyle of southern France.
How to get to Aix-en-Provence?
The closest airport to Aix-en-Provence is the Marseille Provence Airport (MRS airport code). From there you can take a shuttle bus (navette) number 40 that will bring you to the Gare Routière (bus station) in Aix-en-Provence (just outside the Old Town). You can also take a taxi or an Uber but those are significantly more expensive than the shuttle. You can also fly into the Nice Airport (NCE airport code) and from there you can take a FlixBus. But the Nice airport is two hours away from Aix and the buses are not as frequent into Aix. If you are coming from Paris or Lyon, you can take the high-speed TGV train. The Aix TGV station is actually 14 km outside of Aix so you will still need to take a shuttle into Aix or a taxi or Uber.
Is tap water safe to drink in Aix-en-Provence?
Yes, tap water is safe to drink in Aix-en-Provence but it is always a good idea to ask your Airbnb host or your hotel concierge upon arrival just to be safe. Do not drink the water from the city fountains.
Is tipping expected in Aix-en-Provence?
As in the rest of France, tipping is not expected in Aix-en-Provence. However, if you wish to leave a tip for your waiter or other service provider, you can leave a small tip of a euro or two.
What is the weather like in Aix-en-Provence?
Aix-en-Provence has a Mediterranean climate and weather in winter is mild while summers are hot. A strong wind called Mistral sometimes blows in winter and spring and when it does it reduced the air temperature by a few degrees Celsius.