Farinoman Fou: a one-of-a-kind bakery in Aix-en-Provence
Farinoman Fou stands out as a radiant and unique gem among Aix-en-Provence's bakeries.
As you set foot inside Farinoman Fou, you immediately sense something special unfolding within its walls—a sincere dedication to old traditions and an unwavering commitment to craftsmanship.
This extraordinary bakery has captured the hearts and taste buds of many including myself. It has become a revered destination for bread enthusiasts seeking a transcendent experience.
In today's fast-paced world, Farinoman Fou offers a sanctuary to slow down and savor life's simple pleasures, particularly the joy of bread.
With an unwavering devotion to quality, every loaf at Farinoman Fou is a testament to their pursuit of excellence.
From its captivating history to its exceptional bread offerings, Farinoman Fou exudes a sacred aura that resonates with its loyal following.
In a town where bakeries abound, Farinoman Fou distinguishes itself as a haven of authenticity, tradition, and exceptional flavors.
Farinoman Fou: a journey from Quebec to the south of France
Before I delve into the culinary delights of this bakery in Aix-en-Provence, let me take a moment to talk about its history and the man behind it all – Benoît Fradette, a baker, a dreamer, and a writer originally from Quebec.
A long time ago, Fradette thought of becoming a priest. However, his passion for breadmaking led him to change course and pursue a career as a baker instead. I am sure many bread lovers in Montreal and Aix-en-Provence are thankful for this change of heart!
After finding success with his first bakery, Le Fromentier, in Montreal, and writing a couple of books, Fradette eventually made his way to Aix-en-Provence and opened Farinoman Fou.
Farinoman Fou roughly translates as "the crazy flour-man". And I am sure many thought him crazy. After all, who decides to move from North America to France, where breadmaking has such deep roots, to open a bakery?
Yet, shortly after setting up shop in Provence, this Quebecois quickly became a local legend.
Farinoman Fou is not just a bakery. It also stands for passionate ideas which Fradette boldly expresses on his blog.
Farinoman Fou even boasts a thoughtful manifesto about bread and life, or "Panifeste " as Fradette calls it. I recommend you read it to get a glimpse into this very creative mind.
His unique approach to breadmaking and his dedication to his craft are evident in every loaf that comes out of Farinoman Fou's oven.
Farinoman Fou: My Impressions
Before my first visit to Farinoman Fou, my expectations were set high. It seemed that everyone I had ever met in Aix spoke very highly of this bakery.
From the moment I set foot inside Farinoman Fou, I understood why it held such a special place in the hearts of locals and visitors alike.
I felt as though I was stepping into a sacred temple dedicated to the art and labor that goes into crafting exceptional bread.
It is evident that bread is not merely a product at Farinoman Fou; it is a calling, a mission, a philosophy, even.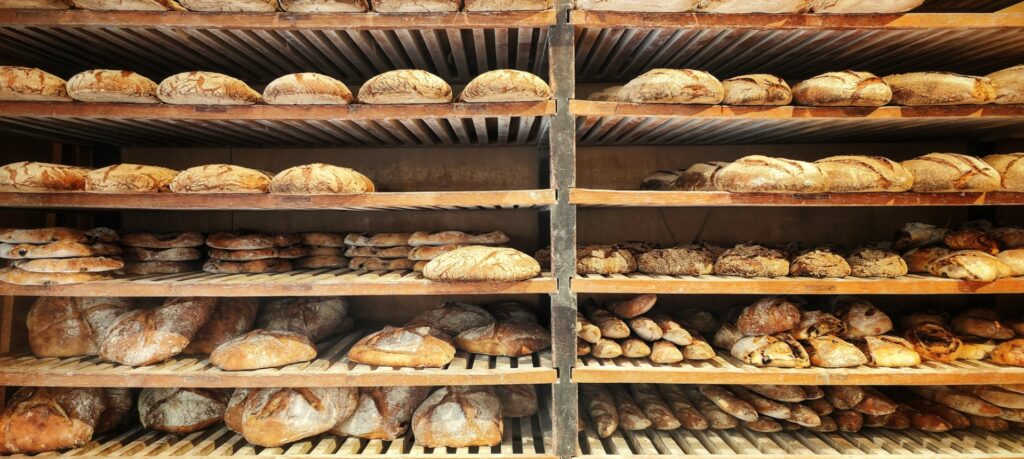 One aspect that struck me was the digestibility of the bread. I am a bread lover through and through but some breads do not agree with me.
Farinoman's bread was unlike any other I had tasted. I found it to be remarkably easy on the stomach, leaving me feeling nourished and satisfied.
I attribute this exceptional quality to the meticulous selection of flour and the barely-there kneading process employed by the skilled bakers.
At Farinoman Fou, bread is not merely sustenance—it is an art form. It embodies a harmonious blend of tradition, craftsmanship, and a deep understanding of the science behind breadmaking.
Each bite is a testament to the unwavering commitment to excellence and the passion that drives the bakers at Farinoman Fou.
What's So Special About Farinoman Fou
What sets Farinoman Fou apart is the way bread is made here. The bakery takes pride in its commitment to traditional methods and high-quality ingredients.
The bread at Farinoman Fou is crafted with great attention to detail, a profound respect for the old ways of doing things and a deep understanding of the art of baking.
Farinoman's loaves are crusty on the outside yet moist on the inside. From its l'Olympique to artisanal loaves, each creation is a testament to the expertise and passion of the bakers.
The secret to this exceptional quality of bread at Farinoman Fou lies in Fradette's unique breadmaking techniques. They use more water, less yeast and minimal kneading. This results in a beautifully textured and flavorful bread that is truly one of a kind.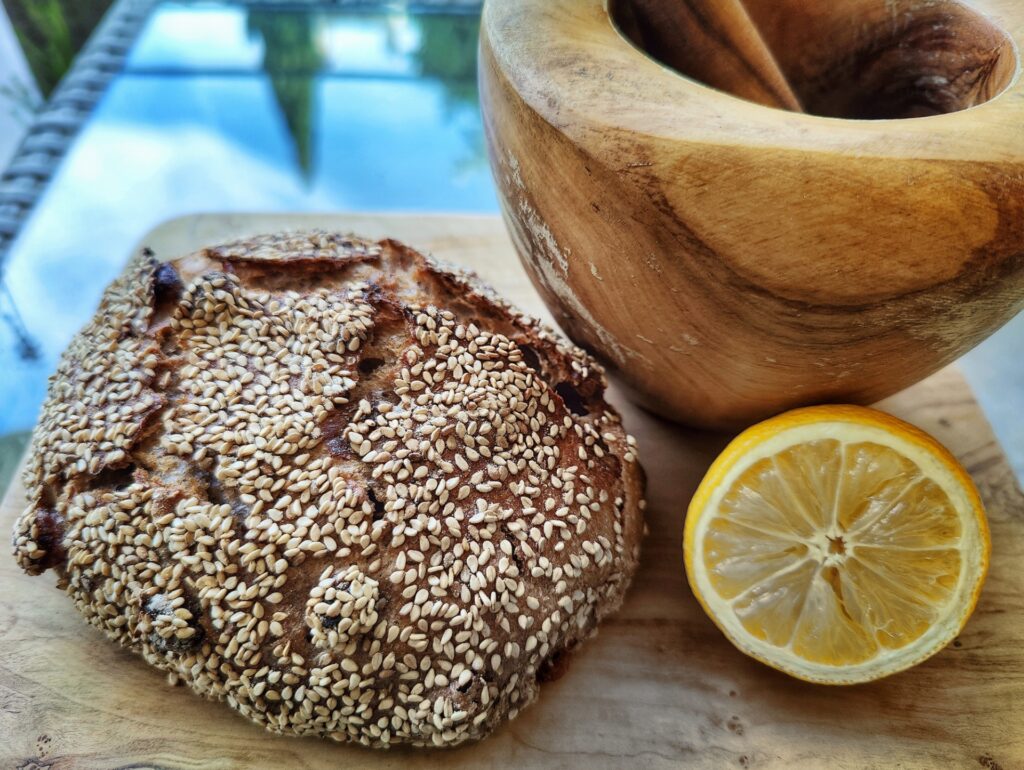 If, like me, you are a bread fanatic, you will know that over-kneading and under-kneading bread is something bakers worry a lot about.
Unlike typical bakeries, Fradette does not heavily knead his dough, which can lead to oxidation and less flavorful bread.
But at Farinoman Fou, the bread is kneaded just so to create a perfect loaf. This process takes longer and bakers at Farinoman Fou start their night shift a few hours earlier than in other bakeries.
Bread at Farinoman Fou
The quality of the bread at Farinoman Fou is exceptional. The crust is perfectly crisp, while the interior is moist and full of flavor.
You will notice that most loaves look darker here than in other more typical French bakeries. Don't look for a traditional white baguette here.
Another notable aspect is the range of special breads available, many of them with fruits, nuts and seeds.
Each bite is a delightful journey of taste and texture, leaving a lasting impression. There are no boring breads at Farinoman Fou!
Some of the standout breads at Farinoman Fou include Noix et Raisins (Nuts and Raisins loaf) and Nectar d'Abricot (Nectar of Apricot) – my absolute favorites. I love breads rich in fruit and nuts!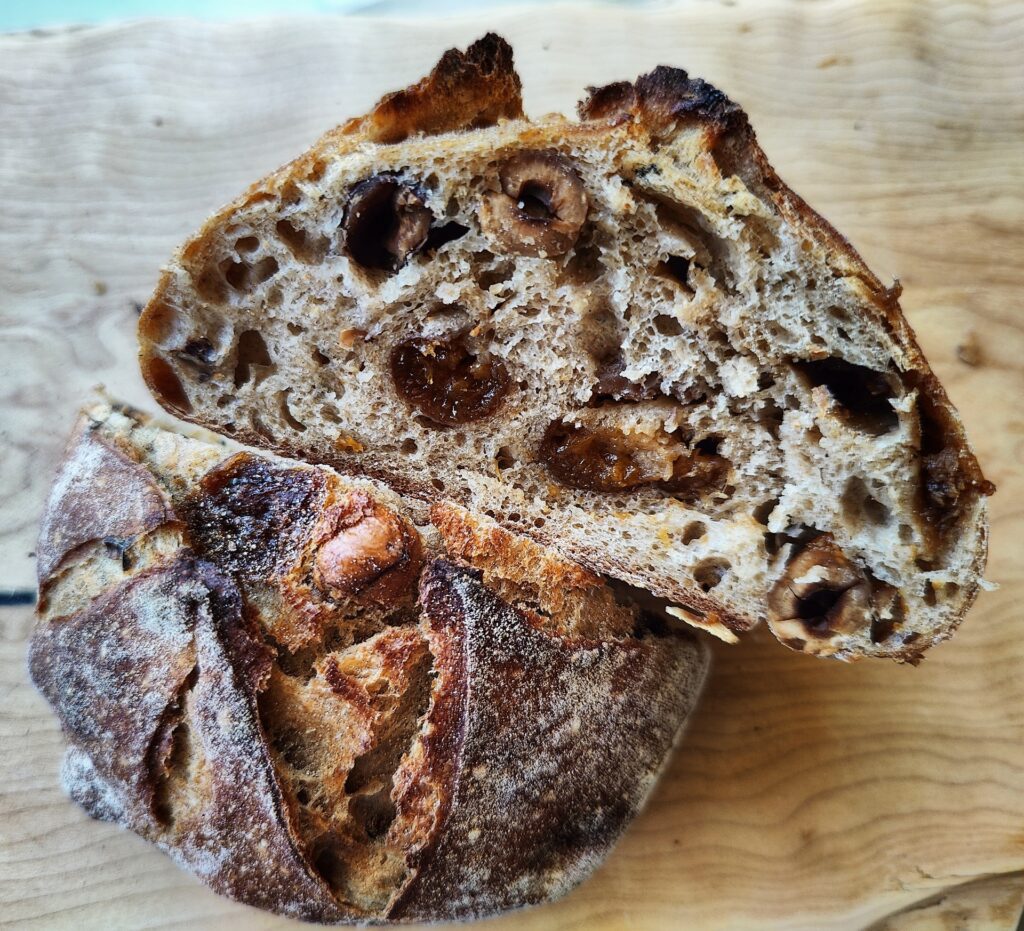 Both of these loaves are perfect for a picnic in the park and pair wonderfully with any of the amazing cheeses you can buy at the farmers' market right outside the doors of the Farinoman Fou or at any of the amazing cheese shops in Aix-en-Provence.
But I also recently tried a Fiorito Negro, filled with olives, caramelized onions and hazelnut. It's like a lovely pull-apart bun.
I tried it both by itself and with butter from Normandy. And I also dipped it in olive oil mixed with balsamic vinegar. All variations were wonderfully tasty!
Some of the favorites of the inhabitants of Aix are l'Olympiques,Choco-Sourire and Nouages.
A number of breads at Farinoman are made daily and others are only made on certain days of the week.
Each bread bag has a bread schedule printed on the back and you can also find a more updated version on the bakery's website.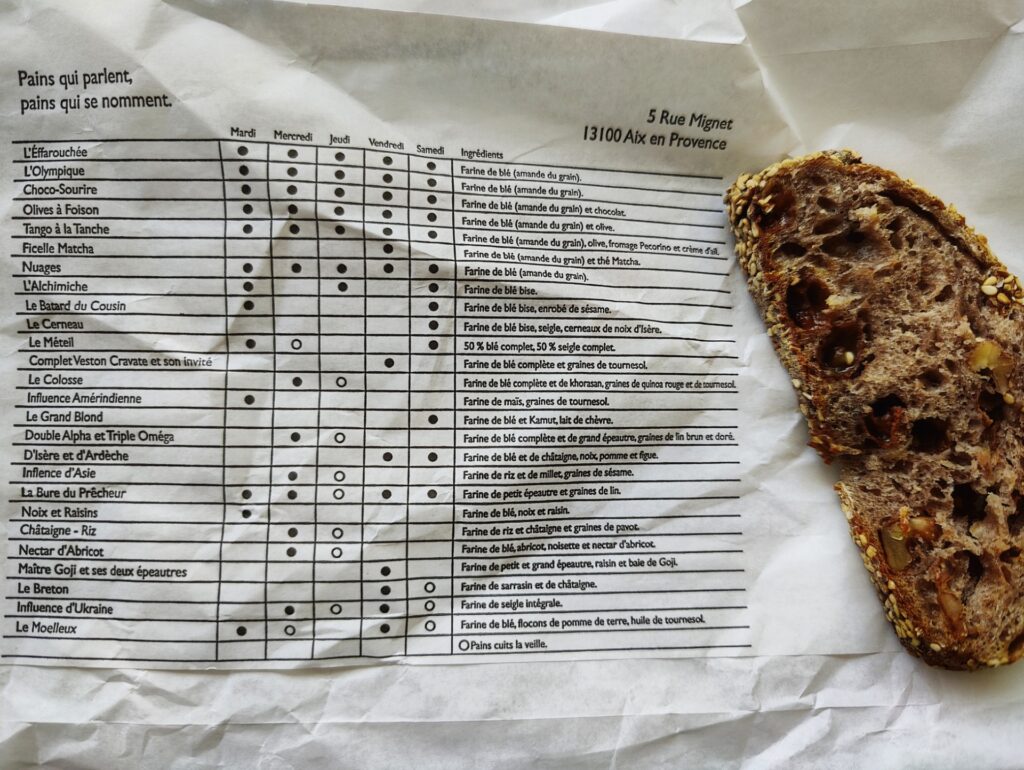 Every bread at Farinoman Fou tells a story and is crafted with care and passion. And the names of the breads are exactly what you would expect from a writer, complete with double entendres and a play on words.
For those of you who are learning French, I recommend a fun exercise of deciphering the names of some of the loaves, like for example: Maître Goji et ses deux épeautres.
Service
The passion and dedication of the staff at Farinoman Fou are obvious from the first moment.
They are highly attentive to the customer but bread comes first. You will receive their full undivided attention but do not hold up the line with chit chat.
Their serious and no-nonsense attitude serves as a testament to their unwavering commitment to their craft. With every interaction, their expertise and genuine love for bread shines through. 
Bread is all about art and craftsmanship at Farinoman Fou.
But it is also serious business here and everything runs like clockwork. You line up, you enter the bakery through one door and exit through another.
Photography inside is discouraged as I found out quickly enough. After all, this is a place of business first and foremost.
It is worth noting that the bakery can get quite busy, especially on Saturday mornings when the market is bustling. However, the wait is well worth it for the exceptional bread that awaits.
Atmosphere
A magnificent sculpture of a monk, beautifully carved and holding a loaf of bread, adorns the door handle, serving as a captivating welcome into Farinoman Fou.
The presence of this artistic welcome is a glimpse into the profound artistry of bread creation that unfolds within the bakery's walls.
As you step inside, the atmosphere envelops you in a unique blend of functionality and reverence for the craft of breadmaking.
The interior design embraces simplicity, allowing the true star of the show—the bread—to take center stage. Soft, warm lighting casts a gentle glow, highlighting the rustic wooden accents that adorn the space.
Every detail, from the carefully arranged displays of freshly baked loaves to the rhythmic hum of activity in the bakery, contributes to a cozy and inviting ambiance.
It is as if time stands still here, and you feel transported to a by-gone era when the art of breadmaking was revered.
It is within this unique ambiance that I found solace and indulgence, where bread became not just sustenance but an experience to be savored and cherished.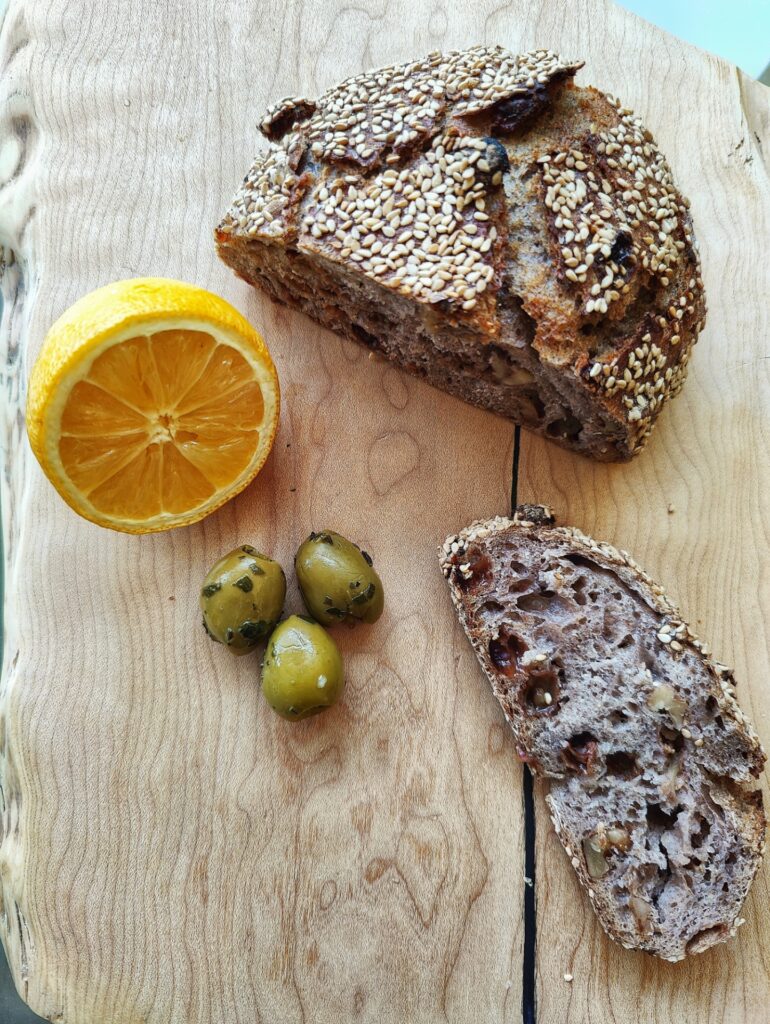 Farinoman Fou has truly created a haven for bread lovers, a place where the ordinary becomes extraordinary, and each bite is a divine revelation.
It is within this unassuming yet captivating setting that a sense of something almost holy lingers.
The craft of breadmaking, elevated to a sacred act, permeates the air, almost infusing each loaf with a touch of divinity. 
The presence of the whimsical door at the back, featuring a large figure of the same monk found on the sculpture at the front, adds a playful touch to an otherwise practical environment.
It serves as a reminder that even in the pursuit of such a noble craft, there is room for whimsy and joy.
Together, these elements create an atmosphere that is both enchanting and serene, inviting all who enter to witness and partake in the ages-old craft of breadmaking.
Pricing and Value
How much will you spend at Farinoman Fou? While prices might be on par with other high-end bakeries in Aix-en-Provence, the quality of the bread is above the others in town, in my opinion.
Keep in mind that prices are set by weight not by loaf which is unlike in most other bakeries in Aix-en-Provence.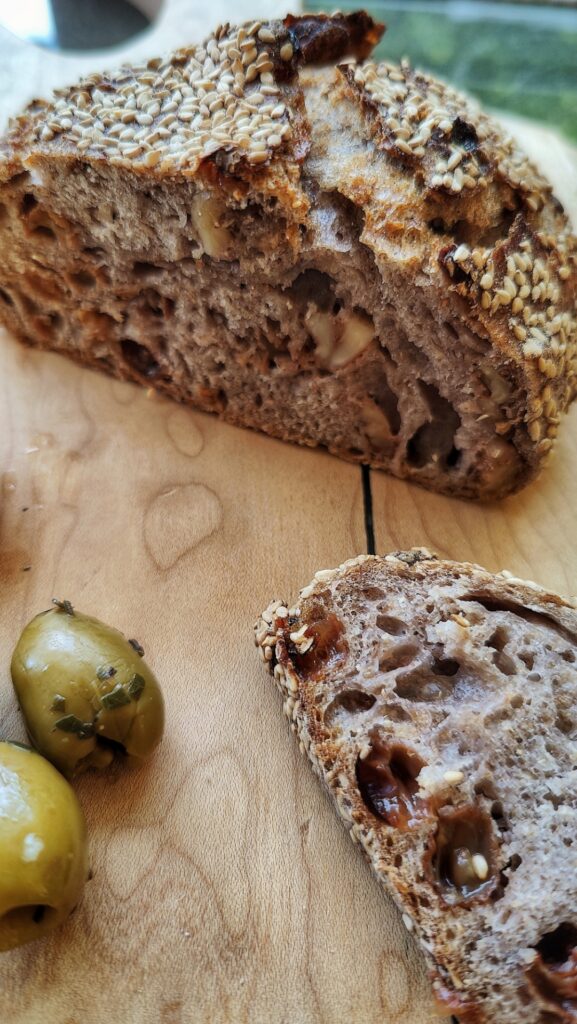 To give you an idea of prices, on my last visit, I paid € 4.20 for one Fiorito Negro and one Nectar d'Abricot, two small loaves.
While the prices at Farinoman Fou may be higher than what you are used to paying for bread, the quality of the bread justifies the cost.
The dedication and craftsmanship put into each loaf are apparent, making it easy to overlook the price tag.
The bakery offers exceptional value for the unparalleled bread experience it provides.
Tips from a local
Here are some of my tips about Farinoman Fou:
Some breads are sold on only certain days of the week.
Bread is priced by weight, not by loaf.
If you are in Aix on a Saturday (busiest market day), try to visit Farinoman Fou first thing in the morning. If you come mid morning or around lunch time, expect to wait in line.
Keep in mind that photography inside the bakery is discouraged.
Farinoman Fou is closed on Sundays and Mondays.
While it may be unlikely for you to run into Benoit Fradette, the passionate baker himself, know that he is working tirelessly during the nights to create the bread he loves.
Farinoman Fou: Practical Info
Here is some practical information about Farinoman Fou:
Address:
5 Rue Mignet, 13100 Aix-en-Provence, France
Opening Hours:
Tuesday to Friday: 7:00 AM- 7:00 PM 
Saturday: 7:00 AM- 6:00 PM
Contact info:
You can message the bakery on their website.
How to get there:
To reach Farinoman Fou from anywhere in the historical center of Aix-en-Provence, is just a few minutes walk.
If you are driving, the closest parking garage is Bellegarde (only 4 minutes walk) but you can also park at La Rotonde or other parkades surrounding the center.
Final Verdict: Overall Experience
I give this bakery five out of five stars for unparalleled quality, unrivaled taste and the care and passion that go into the craft of breadmaking.
Farinoman Fou is, without a doubt, the epitome of a bakery that surpasses all expectations in Aix-en-Provence.
With each visit, I am captivated by the unwavering dedication and passion that Benoit Fradette and his team pour daily into their craft, resulting in extraordinary loaves of bread.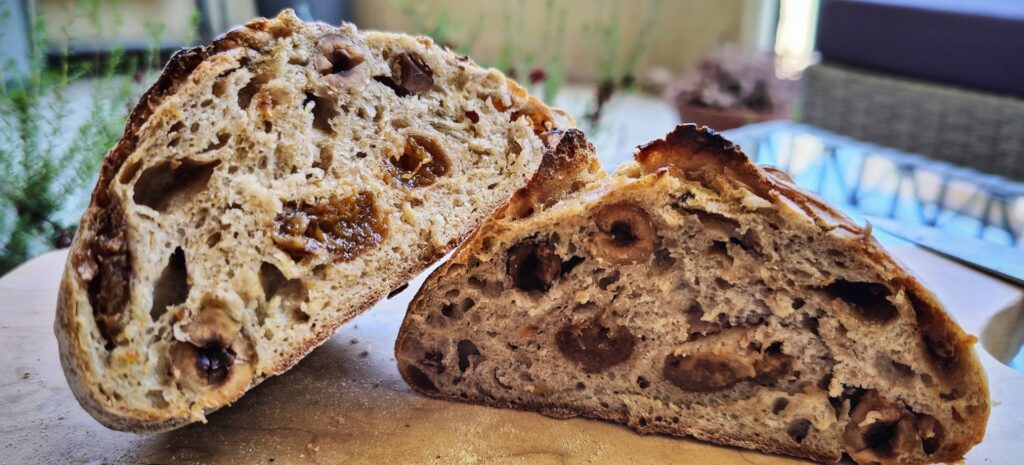 Every bite of the bread at Farinoman Fou is a symphony of flavors and textures. It is a testament to the craftsmanship and attention to detail that goes into every loaf.
The exceptional quality is evident in the crust's perfect crunch, the moist and tender interior, and the harmonious balance of flavors and textures that unfold with each bite.
So if you happen to be in Aix-en-Provence, you must make it your priority to experience firsthand the magic that takes place at Farinoman Fou.
This bakery is one of the many reasons why Aix-en-Provence is worth visiting.