Le Tuyau in Aix-en-Provence: a French-style brunch spot (a local's review)
Brunch is a great way to celebrate the weekend and there's no better way to do it than in a good restaurant. This review will take you through the ins and outs of Le Tuyau in Aix-en-Provence, a French-style brunch spot.
Le Tuyau offers both savory and sweet food, as well as great coffee, tea and hot chocolate. So whether you're looking for something light or something more substantial, you'll find it here.
I recently spent a wonderful Sunday morning with a couple of girlfriends here. This was my second time at Le Tuyau and both times I liked what I experienced. I will definitely be back.
In this review, I'll talk about things like the atmosphere and quality of service, the look and taste of their offerings as well as pricing. So let's dive right in!
Le Tuyau: a very French experience
Le Tuyau is mainly a breakfast and brunch place but it does serve lunch and sweet pastries and cakes as well.
Now remember when visiting this place that you are in Provence. This means that brunch will be different from the brunch you get in countries like the States.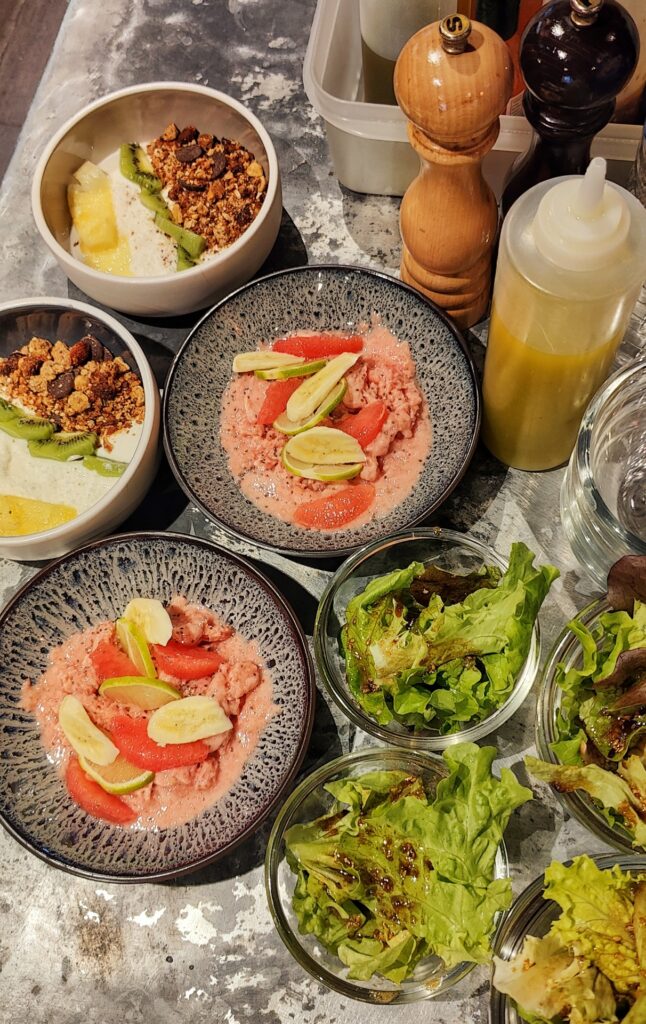 While American brunch is usually all about lavish indulgence and sometimes bottomless mimosas, the French brunch is more subdued, more of a refined affair. Think taste, fresh ingredients and presentation over quantity and indulgence.
Instead of towering stacks of pancakes, and heaping plates of bacon and eggs, you should expect smaller portions that focus more on good ingredients, presentation and great taste than size.
So keep those differences in mind when you go to a brunch spot in France and adjust your expectations accordingly. Each country has its own traditions and a different way to do things. Let's embrace those differences!
But like in other countries, a French brunch is meant to be enjoyed with friends and family. And often these gatherings over brunch take place in a bustling restaurant or a quaint hidden spot much like Le Tuyau.
Le Tuyau: what does the name mean?
I have to mention the name because I had a hard time figuring out why this restaurant was named Le Tuyau.
The French word "tuyau" means a cylindrical pipe.  For the life of me, I couldn't figure out why it would be a good name for a breakfast spot. So I asked one of the staff about the meaning behind the name. And I got a very French response back: "Because it's French, it's short and it's easy to remember." I like that!
How do you pronounce Le Tuyau?
The name might be easy to remember but it is not easy to pronounce for foreigners who are just learning French.
Fret not, I have recorded for you how to pronounce the name of this brunch spot:
Brunch at Le Tuyau: My Review
I live in the historical center of Aix-en-Provence and I have now had brunch at Le Tuyau twice.
The first time I came here, my friend and I sat inside. And the second time, just recently, my friends and I sat outside on the little patio. Both areas are nice.
If you come with a larger group, then inside is probably a better option. Outdoor tables sit a maximum of four people and there are only a few tables outside.
Keep in mind that indoors can become very boisterous especially on weekends so if you prefer a bit less of a commotion, sitting outside is quieter especially on Sunday mornings.
But Saturdays are always very busy in Aix, especially during the high tourist season so on those mornings it doesn't really matter where you sit. It will be quite hectic both inside and outside.
What's Special About Le Tuyau
My favorite thing about this brunch spot is that their Sunday brunch is served almost all day: from 10 AM to 3 PM. We all know how lazy Sundays can be. Hey, if I can have breakfast in the afternoon on the weekend, I am as happy as a clam!
Their specialty is a very French thing called la tartine which is a lovely slice of delicious bread with an amazing spread of tasty toppings. An equivalent elsewhere in the English-speaking world is an open-face sandwich. Except la tartine is so much better!
But they also make desserts to-die-for, cakes and pastries. And even though I prefer my breakfast savory, I do like to share something sweet with my friends at the end.
And I do enjoy the coffee at Le Tuyau. If you know me, I am a coffee lover and I am always on the lookout for a great coffee shop in Aix-en-Provence.
My experience with Brunch at Le Tuyau in Aix
As I mentioned before, disabuse yourself of the notion that you will get something akin to an American brunch in this very French restaurant.
Le Tuyau serves really tasty typical French brunch and breakfast, as well as lunch. The cool thing about their brunch is that the brunch menu changes every month. So when you visit one month, you can expect something a bit different next time.
One thing that doesn't change, as I noticed from being there a couple of times and from hearing from friends, is the quality of their food. They use very good quality fresh ingredients.
A typical French brunch includes la tartine. You have to try one. You can pick a savory one or a sweet one. And you can choose between a cold tartine and a hot one.
All their bread is organic and – as it seems to always be the case in France – really good. Their dips, like hummus and tzatziki, are home-made, and very tasty.
I had their avocado toast the first time I went there and it was to die for. I loved the alfalfa on it. And I added smoked salmon to mine. Quite excellent! Pair that with their home-made lemonade (citronade) with mint and it's pure heaven!
The last time I went to Le Tuyau with two of my friends, we got three different tartines, but we shared them all, so that we could taste all of them.
I ordered the David tartine topped with mustard, fresh cream, potatoes, chicken and Comté cheese. It was really tasty. It came with a side of simple green salad with a vinaigrette.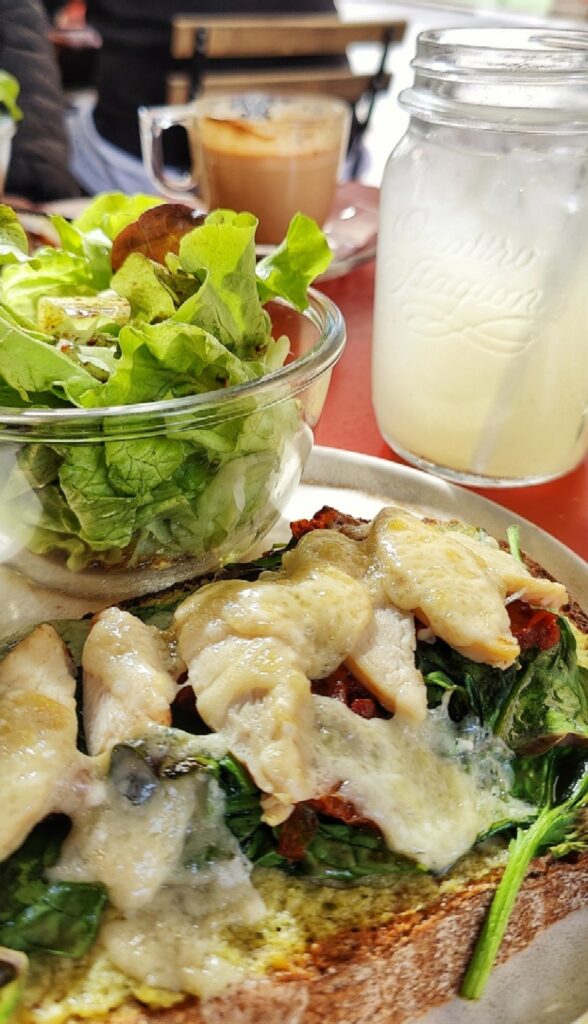 One of my friends who does not usually eat meat, ordered the Bene tartine. This one was topped with goat cheese, honey and nuts among other ingredients. Very good and a great combo of savory and sweet.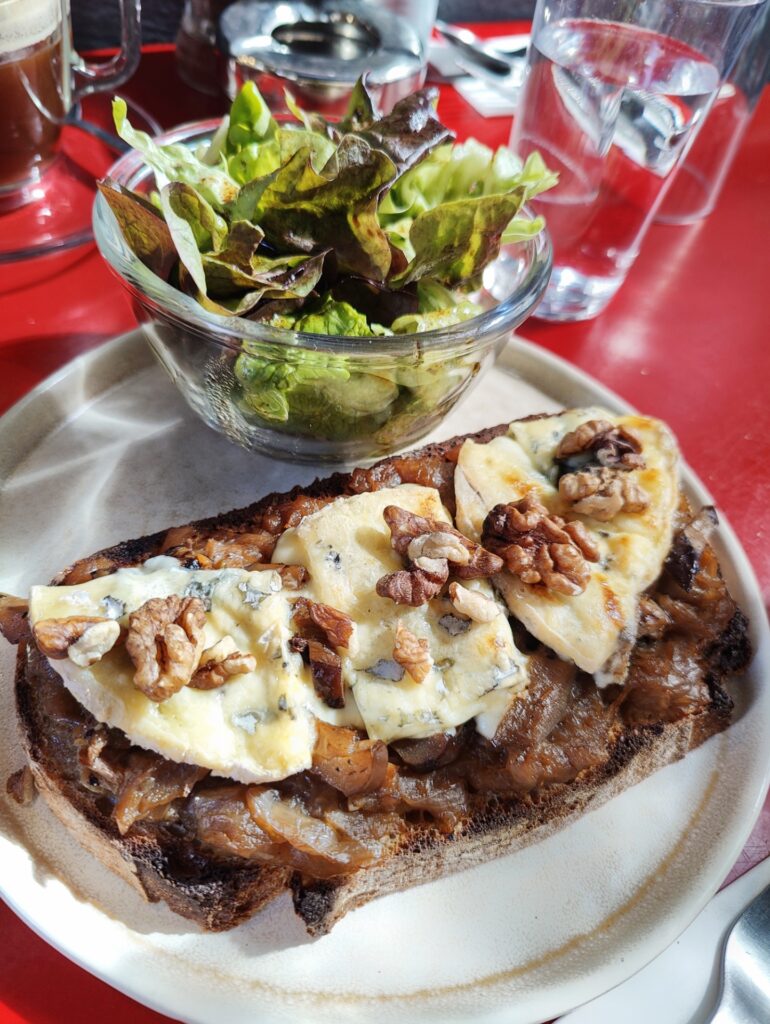 My other friend ordered the Victor tartine. This one came topped with pesto, Serrano ham and mozzarella cheese, among other things. It was also very tasty.
And we all had coffee and I also had lemonade. I really enjoyed their espresso and my friends had a latte and a cappuccino, which they found to be very good as well.
The amount of food was just right. We felt satiated but not too full and we did not have room for dessert this time.
Service
My friends and I have found the staff at Le Tuyau very friendly and pleasant. We didn't have to wait too long for our order but we did arrive shortly after opening so the restaurant wasn't full yet.
I suggest you make a reservation especially for weekends as the place does fill up fairly quickly. And the restaurant does recommend you make reservations.
My friend who loves lattes really appreciated the pretty latte art Le Tuyau barista created for her. I myself am an espresso drinker so no art for me.
Remember, tipping in France is not the same as in the States. It is never expected and more of an exception than a rule. And it is never a huge percentage of your bill. Usually it's just a euro coin or two if you were extra satisfied with the service.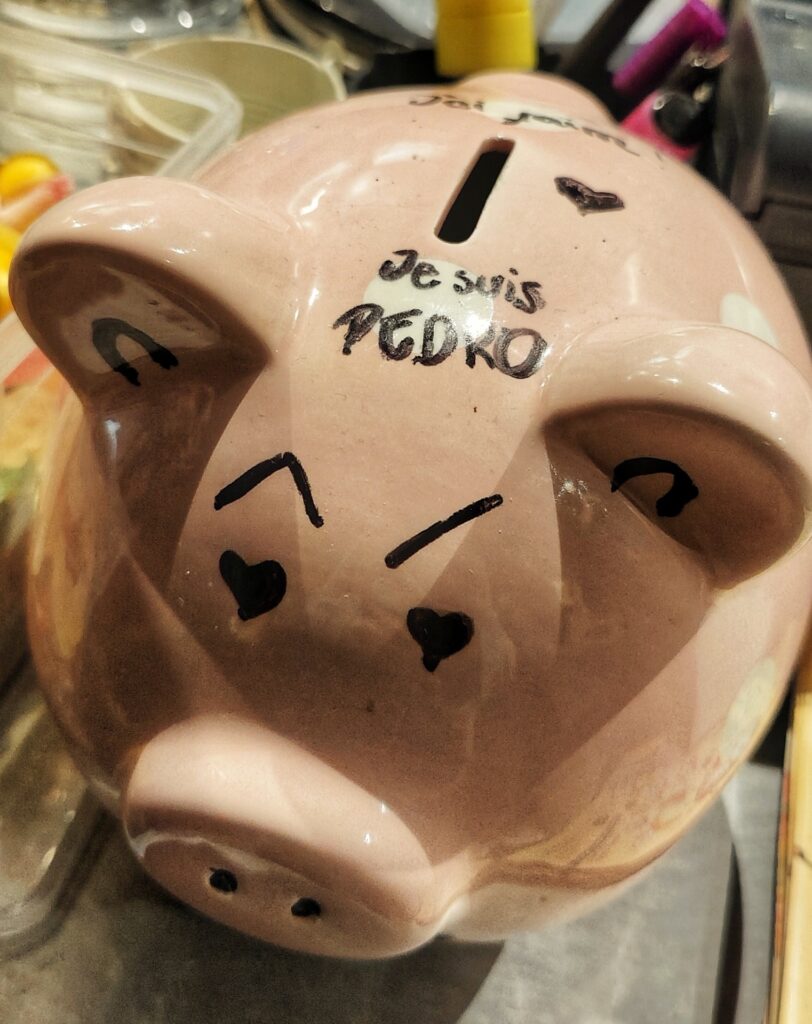 A tip in French is called a pourboire – which roughly means "towards a drink". And it is completely acceptable not to leave any tip at all.
Atmosphere
The atmosphere at Le Tuyau is full of energy especially on weekend mornings. The place is buzzing with conversation and laughter, staff busily meander through the tables and the espresso machine is whirring with a promise of a delicious coffee.
The place feels young and happening. It feels happy and fun. And this atmosphere is contagious. Both times I have been there I left energized and with a smile on my face.
Pricing and Value
How much will you spend at Le Tuyau? To give you an idea of what the prices are like, here are just a few from this month:
Drinks:
Fresh-squeezed orange juice € 3.90
Espresso € 2.00
Cappuccino € 3.50
Tea € 4.00
Hot Chocolate € 4.00
Food:
Croissant € 1.20
Muffin € 3.70
Granola bowl € 7.90
Tartines € 8.90 – € 9.90
Lunch menu € 10.50 – € 14.00
Full brunch menu € 27.00 (but it's a lot, I would share with someone, as you get two drinks, hot and cold, a granola or similar bowl, a tartine, a green salad and a pastry)
In my opinion, prices at Le Tuyau are very reasonable for Aix-en-Provence which is known for being more expensive than other parts of France. Possibly one of the reasons for more approachable prices is the fact that Le Tuyau is hidden deeper in the historical center and off-the-beaten path.
So the value for the money you get here is good for Aix. You get freshly made delicious French fare for a reasonable price. This is especially good news for students or families.
You'll leave feeling satisfied and without having broken the bank.
Local's Tips
Here are some of my tips about Le Tuyau:
Make a reservation especially if you are coming on the weekend or during high season (May through September).
Le Tuyau is great if you want to experience breakfast and brunch done in the French-style. Forget eggs and bacon or heaps of pancakes. Instead discover and embrace la tartine – a great French brunch specialty.
When you use the the sink in the washroom at le Tuyau – you will need to use a plastic white pump on the left of the sink in order for the water to flow. I found it easier to operate it with my leg in order to be able to wash my hands. I know – bathrooms in Europe are funny!
Besides brunch and breakfast, they also serve lunch and really awesome desserts. Both beautiful and delicious!
Just arrived in Aix and want to order in? You can order from Le Tuyau and have it delivered to your Airbnb.
Even though Le Tuyau has free WiFi, I would not suggest this place for coworking. That is not the spirit of this place. There are a few coworking spaces in Aix but coffee shops are not usually meant for that purpose in France. You're expected to keep work and pleasure separated in France.
Le Tuyau is closed every Wednesday.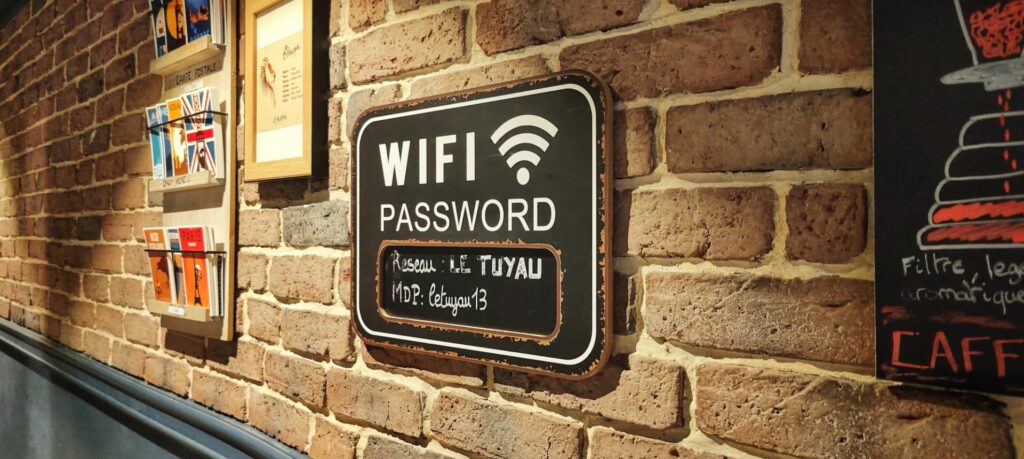 Le Tuyau: Practical Info
Here is some practical information about La Brûlerie Richelme:
Address:
14 Rue des Tanneurs, 13100 Aix-en-Provence, France
Opening Hours:
Monday to Saturday: 9:00 AM – 6:00 PM
Sunday brunch all day: 10:00 AM – 3:00 PM
Closed Wednesdays
Contact info & socials:
Tel: +33 04 42 95 25 76
Instagram: @le_tuyau
How to get there:
La Tuyau is located in the historic center of Aix-en-Provence about 5 minutes on foot from La Mairie (or the town hall). Since most of the center has limited car traffic reserved mostly for those with special access, it is best to walk here.
However, feel free to also arrive by bike or motorbike although the town is quite busy with pedestrians especially on Saturdays and any day during the summer.
You can also take La Diabline, a tiny electric vehicle that goes around the historical center of Aix. People with limited mobility often use it to get around.
Le Tuyau is a maximum 10-minute walk from the farthest corners of the historic center. If you drive in and park underground at La Rotonde, then your walk in will be only about 3 minutes. 
If you park at Parking Cardeurs, then you are only four minutes on foot from Le Tuyau.
Final Verdict: Overall Experience
My international friends and I really enjoyed Le Tuyau. My American friends who have lived in France for many years loved the experience of this French brunch.
And I really love the emphasis on presentation, taste and a great combination of healthy and delicious ingredients. I also love that portion sizes are not overwhelming and you leave feeling satiated but not like you have eaten too much.
I have only ever heard complaints about Le Tuyau from two people. One of them, a visitor from the US wished that they had a real American brunch and the other, a visitor from another country, was surprised she could not just take out her laptop and spend hours working away while sipping on a latte.
I personally think these are not valid complaints. One – Le Tuyau is a French restaurant in France and they serve beautiful and traditional French-style breakfast and brunch. Embrace that!
And secondly – this is not Starbucks. It's a small restaurant in France where the coworking culture is very different from other countries.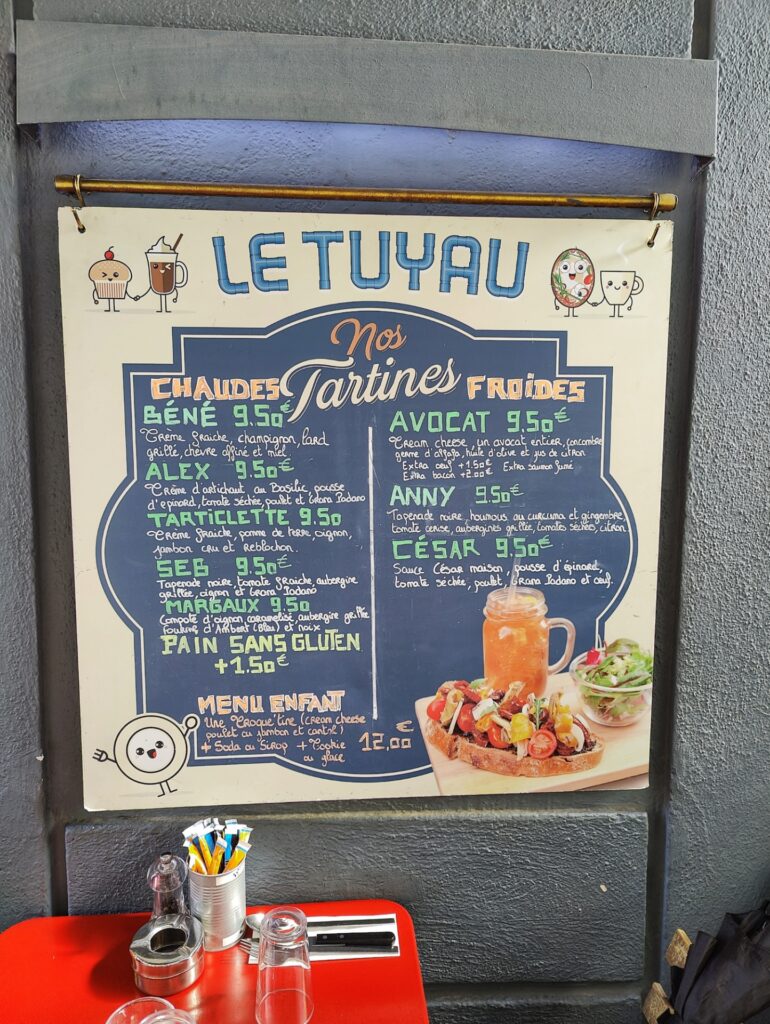 In my opinion, Le Tuyau is a great French breakfast and brunch spot in Aix-en-Provence. So if you are looking for a beautiful French experience and you want to see how the French do brunch, then I highly recommend this delicious and fairly priced restaurant.
I give Le Tuyau 4.5 out of 5 stars for great coffee, a fun-infused atmosphere, friendly staff and fair prices. If it had more outdoor seating, I would give it full marks.
So if you are looking for a lovely French brunch, make sure to stop by Le Tuyau in Aix!
À bientôt!