La Cave des Ours: a wine lover's haven in Aix-en-Provence
Have you heard about La Cave des Ours? It's this amazing wine bar and wine shop in Aix-en-Provence, a city that's just bursting with history, stunning architecture, and an awesome art scene.
Seriously, it's the perfect spot for wine lovers and even those who just want to kick back and enjoy a glass of some spectacular wine.
Offering a diverse selection of wines from both local and international producers, this cozy establishment has quickly become a favorite among wine enthusiasts and casual drinkers alike.
I recently discovered this hidden gem thanks to a friend who loves the selection of naturally-produced wines at this amazing wine bar in Aix-en-Provence.
And let me tell you, it was love at first sip. As soon as we walked up to the place, I was hit with this incredible sense of community over love of wine – it was like stepping into a wine paradise!
La Cave des Ours: organic & biodynamic wines
What's super cool about this wine bar and wine shop is their focus on naturally-produced wines. You know, the ones made with sustainable practices and organic ingredients.
These wines are free from harmful chemicals, additives, and preservatives, making them an excellent choice for those who are mindful of their impact on the planet.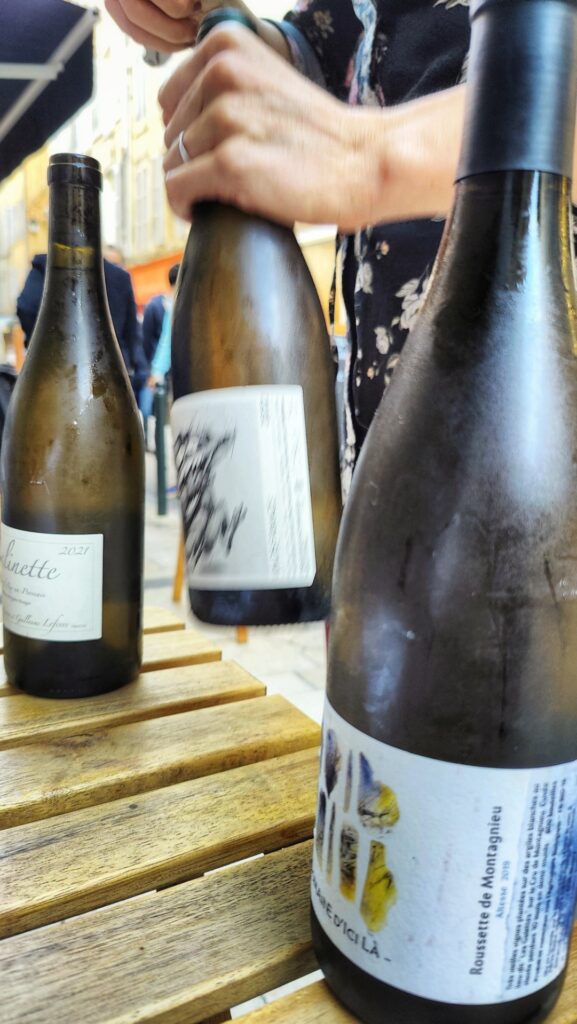 It's all about supporting the environment and enjoying a delicious glass of wine guilt-free.
Plus, each bottle tells its own story—where it came from, the traditions behind it, and the passion of the people who made it.
La Cave des Ours: sustainability
One of the key aspects that sets La Cave des Ours apart from other wine bars and wine shops in Aix-en-Provence is its commitment to sustainability.
The owners, Maria and Romain, work tirelessly to ensure that their selection of wines and beers is not only delicious but also environmentally friendly.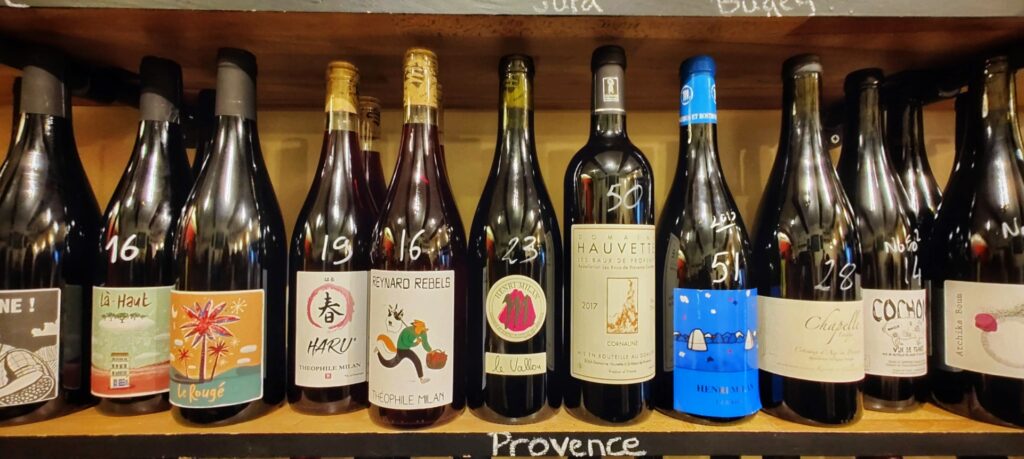 In addition to their focus on organic and biodynamic wines, Maria and Romain also make it a point to support local producers.
By featuring wines from nearby wineries and breweries, this wine boutique helps to promote the rich wine culture of Aix-en-Provence and the surrounding regions.
La Cave des Ours: not just a bar
La Cave des Ours is not just a place to meet up with friends for some amazing drinks but also a wine shop where you can pick up a bottle of wine for dinner.
But it doesn't stop there!
La Cave des Ours also hosts wine events and tastings. It's like a hub of wine-loving folks coming together to have a great time.
Whether it's a cozy night with friends or a special occasion, this place sets the scene for unforgettable moments.
Drinks & Food at La Cave des Ours
This lovely bar is a great place to unwind with friends over some fantastic wines, craft beer, unique cocktails and yummy appetizers.
And they even have some vegan offerings!
Wine
La Cave des Ours boasts an impressive selection of wines that cater to a wide range of tastes and preferences.
From bold reds to crisp whites and everything in between, there is something for everyone at this charming establishment. 
Beer & Cider
In addition to their wine offerings, La Cave des Ours also serves a variety of craft beers and ciders, making it the perfect spot for a leisurely drink with friends or loved ones.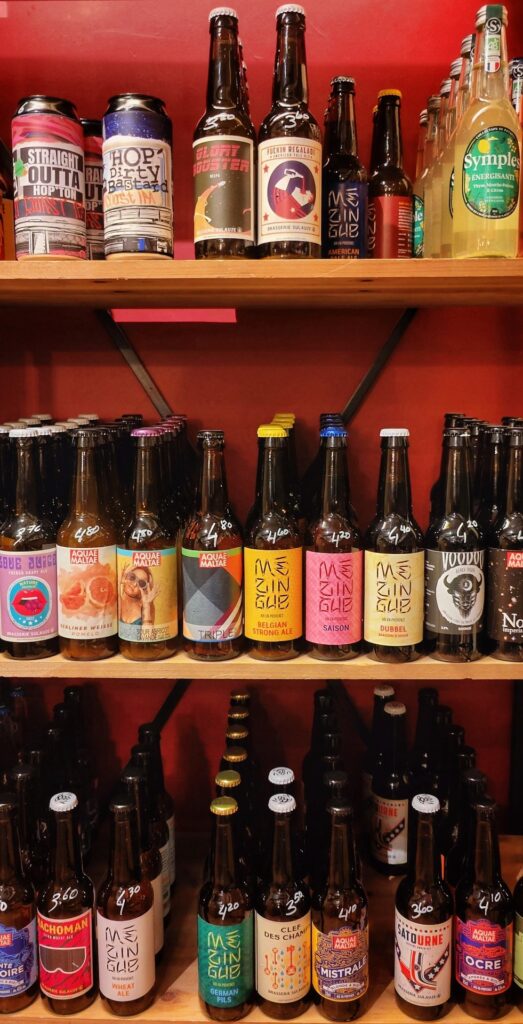 Cocktails
La Cave des Ours also offers cocktails ranging from Pastis, a typical Provencal aperitif, to some innovative takes on traditional concoctions.
Food
My friends and I tried two delicious appetizers at La Cave des Ours to accompany our white wine. We had a home-made Kalamata olive tapenade (they call it Olivade) and fabulous bruschetta.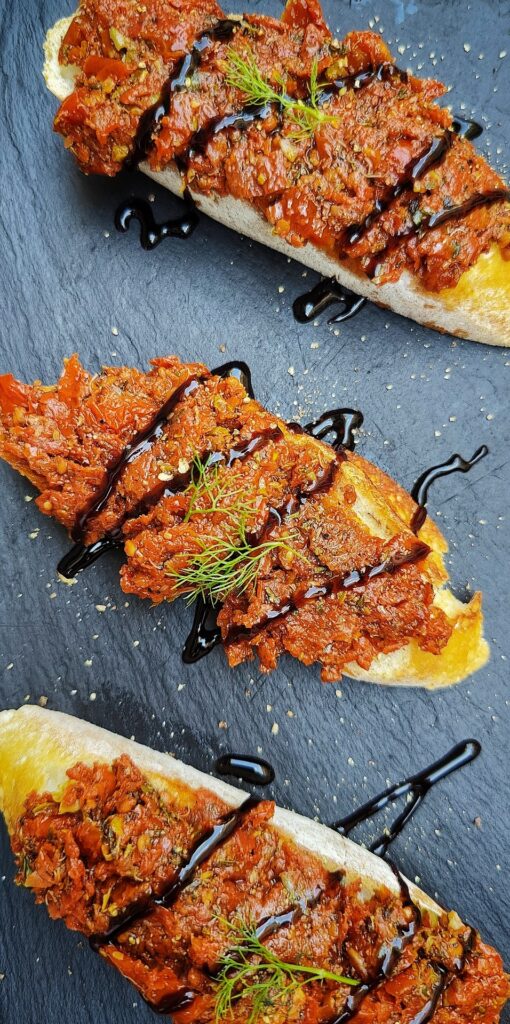 Vegans can rejoice. Just look for a green leaf on their menu for many vegan options.
And I have it on good authority that they get their bread from Farinoman Fou, my absolute favorite bakery in town.
Service
One of the reasons La Cave des Ours has become such a popular spot in Aix-en-Provence is its commitment to creating a welcoming and inclusive space for all visitors.
The staff at La Cave des Ours are absolute wine wizards. They know their stuff and are so eager to share their knowledge with you.
Whether you're a total wine geek or just dipping your toes into the world of vino, they'll help you find the perfect wine to suit your taste buds.
Trust me, their recommendations are on point, as I recently found out.
Atmosphere
The atmosphere at La Cave des Ours is very convivial. It feels like a fixture of the neighborhood.
The place is small but that is no problem. When we came, it looked like there was no room outside but the owner brought out a table for us.
Later as more people showed up, more tables appeared in front of the bar. You can also sit by the bar inside or in a cozy little room in the back.
Pricing and Value
Below our some prices from my recent visit:
A glass of wine between €5 and €12
Artisanal beers and ciders between €4 and €30
Cocktails between €4 and €13
Appetizers between €4 and €8
Cheese board € 18
Vegan board € 18
Home-made brownie € 5
In my opinion, the value you get for the prices is great. Basically you get to try wines produced in a way that respects the environment and for very similar prices to other good wine bars in Aix.
Tips from an Aix local
Here are some of my tips about La Cave des Ours:
The owners at this place speak English as they have worked in the wine industry in other parts of the world.
La Cave des Ours literally means "the bear cave".
The place is small but as people show up, tables and chairs are brought out and set up.
They serve vegan appetizers.
This place is perfect for drinks before dinner, or an apéro in French.
They specialize in organic and biodynamic wines.
They also have craft beer, cider and even spirits.
Below is a video by Sam Fournier, an American living in Aix-en-Provence, who graciously agreed to have her interview with Maria from La Cave des Ours included in our article.
Watch this video to learn more about the story behind this wine bar and about the differences between organic and biodynamic wine production.
La Cave des Ours: Practical Info
Here is some practical information about la Cave des Ours:
Address:
20 Rue Jacques de la Rocque, 13100 Aix-en-Provence, France
Opening Hours:
Tuesday & Wednesday: 10:30 AM – 1:30 PM and 3:30 PM – 7:30 PM
Thursday, Friday, Saturday: 10:30 AM – 1:30 PM and 9:00 PM
Closed Sunday & Monday.
Contact info & socials:
Tel: +33 09 54 48 76 34
Instagram: @la.cave.des.ours
How to get there:
La Cave des Ours is located just one minute on foot from the Saint-Sauveur Cathedral in the Old Town of Aix-en-Provence.
Final Verdict
Leaving La Cave des Ours, I couldn't help but feel grateful for my friend who introduced me to this incredible spot.
It's not just a wine bar or a wine shop – it's a place where wine enthusiasts in Provence can come together, share stories, and go on a taste bud adventure through the world of wine.
And produced in ways that respect the environment, to boot!
So, if you happen to find yourself in Aix-en-Provence, a city filled with history, make sure to swing by La Cave des Ours.
Pop open a bottle, immerse yourself in the flavors, and let your taste buds travel to vineyards both near and far. Trust me, it'll be an unforgettable wine experience. Cheers to that!
Santé!