Restaurant Koi in Aix-en-Provence: my favorite sushi spot
Hey there, fellow sushi lovers! If you're looking for the most beautiful and unique Japanese restaurant in Aix-en-Provence, then look no further than Restaurant Koi! I'm a regular at this spot, and let me tell you, it's one of my absolute favorites.
If you're a sushi enthusiast, like me, you simply cannot miss out on Restaurant Koi in Aix-en-Provence! This elegant restaurant with a covered interior terrace is a must-visit for anyone looking to indulge in the finest sushi in town.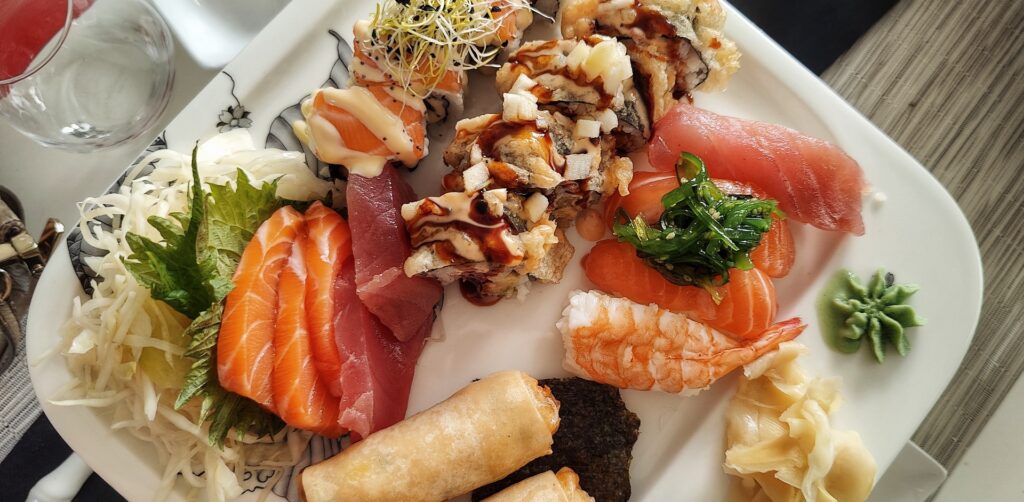 It is a perfect place for a Japanese-style lunch or dinner in the heart of Aix-en-Provence.
As soon as you step inside Koi, you're welcomed by a chic and elegant ambiance that perfectly exudes the feeling of the Japanese aesthetic.
Read on to find out why I absolutely love this restaurant and why I think you will too.
Restaurant Koi: prettiest Japanese restaurant in Aix
They say: don't judge a book by its cover. But in the case of Restaurant Koi in Aix-en-Provence, do! I dare you to walk by and not be drawn in just by its stunning decor.
It is by far, the prettiest and the most elegant-looking sushi restaurant in the historic center of Aix-en-Provence. The interior design of Koi is seriously amazing!
As soon as you walk in, you're greeted by a sleek and modern aesthetic that immediately sets the tone for what's to come.
The gray wallpaper with koi fish and Japanese motifs is simply gorgeous! Add to that the bold red chairs and you've got an eye-candy interior. The decor at Restaurant Koi perfectly reflects the elegance and sophistication of Japanese culture.
But the aesthetics just draw you in. Does the stunning look match the level of culinary art? I dare say – yes! Read on to find out why Restaurant Koi is perfect for lunch or dinner.
Restaurant Koi in Aix: My Review
I'm practically a lunch regular at Restaurant Koi in Aix-en-Provence. I mean, I come here at least once a month, and let me tell you, I know this place like the back of my hand.
Living in Aix, I've tried my fair share of sushi spots, but none of them even come close to the amazingness that is Koi. I mean, from the simplicity of the name and the beautiful decor to the friendly service and, of course, the incredible food, this place checks all the boxes for me.
What's So Special About Restaurant Koi
I already mentioned the stunning interior decor but there is something else that I really love this place for.
What makes Restaurant Koi stand out from other sushi restaurants in Aix is its big outdoor covered patio. You can be protected from too much sun and you can even dine outside on a rainy day (a rarity in Provence).
One of the things I love about the outdoor patio is that it's family-friendly. There are high chairs available for small children, making it easy to bring the whole family along for a meal.
Sushi and other food at Koi Aix
Now, let's get to the good stuff – the food!
Let's talk about the real star of the show at Restaurant Koi – the sushi. The chefs here are true experts at their craft, and it shows in every bite.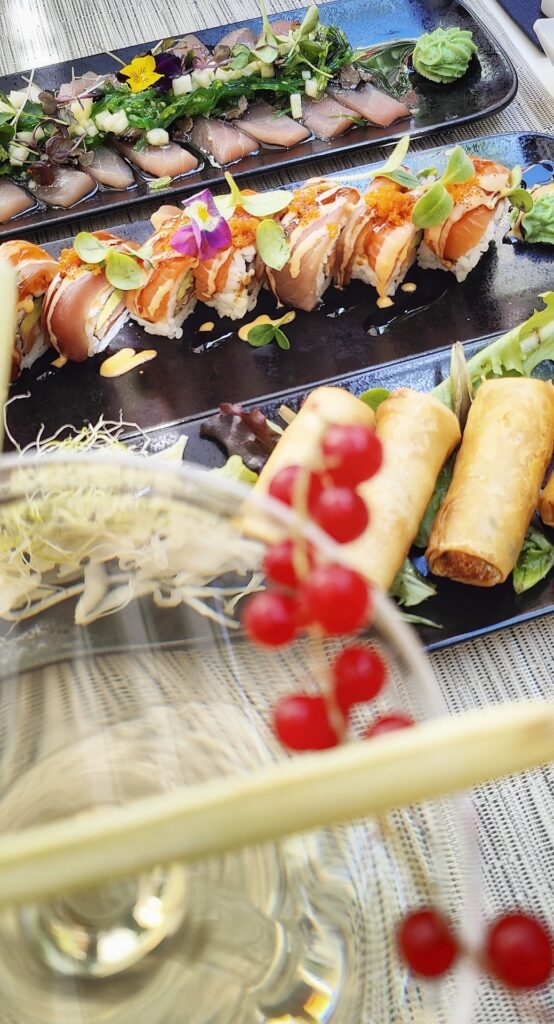 Oh my goodness, where do I even begin? From the first bite, it's clear that every piece is crafted with the utmost care and precision. You can taste the freshness of each ingredient, and the flavors explode in your mouth.
The texture of the rice is perfect – not too sticky, not too dry – just right. And don't even get me started on the melt-in-your-mouth sashimi!
It's safe to say that Koi has raised the bar for sushi in Aix-en-Provence.
Each piece of sushi is perfectly formed, with just the right amount of rice and toppings, some of which are sometimes edible flowers.
The food here is not just tasty but also a work of art. And some of the rolls have a very French twist to them like the Truffle Maguro. This is one of my favorites. It has tuna, green apple salsa, shaved truffle and shiso sprouts. I can't even write this without getting hungry!
For those who prefer veggie-based rolls, you have some delicious menu items to pick from. I regularly meet my vegetarian and vegan friends here for lunch and they absolutely love eating at Koi.
But Koi also serves a Wagyu burger so if you have a group of people with different diet styles, you can satisfy the entire group without compromising quality.
Koi is hands down one of the best Japanese restaurants in town. From the fresh sashimi to the perfectly crafted sushi rolls, everything is absolutely delicious. I've not known a single person to be disappointed after a meal here.
Cocktails and sake at Koi
Don't even get me started on the cocktails and sake at Koi!
To accompany my meal, I always indulge in a cocktail or two at Restaurant Koi. The mixologists here are just as talented as the sushi chefs, and the drinks are always beautifully presented and delicious.
I recently tried Koi's Tiki Ringo cocktail. Oh my gosh – sooooo good! It's got Ryoma rum as an ingredient, zesty yuzu and other deliciousness. You must try it if you like tangy flavors!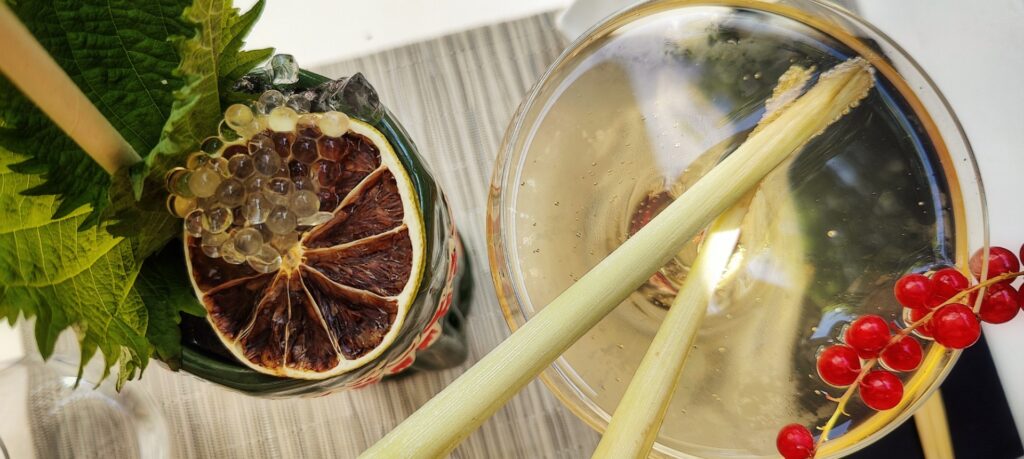 For those who prefer a more traditional Japanese drink, the sake selection at Koi is impressive. The servers are knowledgeable and can recommend the perfect sake to complement your meal.
They also have delicious mocktails if you want to avoid alcohol. Or if you prefer just some green tea, or juice, Koi will oblige.
Whether you're a fan of classic drinks or feeling adventurous and want to try something new, Koi has some amazing drink creations.
Service
But it's not just the food that makes Restaurant Koi in Aix-en-Provence stand out. The service here is impeccable. The staff is incredibly friendly and attentive, making sure that every guest feels welcomed and comfortable.
I have to say that the service at Restaurant Koi is consistently excellent. The staff is friendly and welcoming.
They're happy to offer recommendations and explain any unfamiliar dishes on the menu. And did I mention the presentation? Each dish is like a work of art, beautifully arranged on the plate.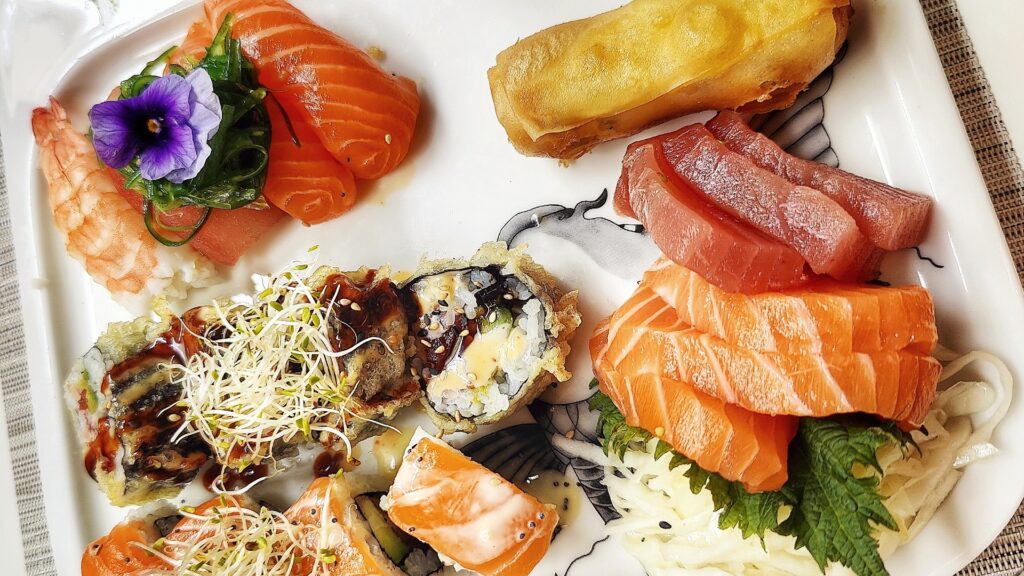 And the best part? They always go above and beyond to make sure I'm comfortable and enjoying my meal. They're attentive without being intrusive which is how I like it.
I really appreciate the attention to detail that the staff shows, from refilling my water carafe to patiently explaining the different types of items on the menu.
From their interactions with customers, it's clear to me that the staff takes pride in providing an excellent dining experience.
Atmosphere and Vibe
Restaurant Koi in Aix-en-Provence has such a fantastic atmosphere that will transport you to the heart of Japan! The decor is sleek and modern, with a gorgeous gray wallpaper adorned with koi fish and Japanese motifs. And let me tell you, the bright red chairs are simply eye-catching!
The open kitchen adds to the overall excitement and ambiance, allowing you to witness the skilled chefs (as long as you are sitting close enough) at work as they expertly prepare your meal.
I really like when you can see into the kitchen. I think it is really important for the chefs and the diners to have that visual connection.
One of my absolute favorite things about Restaurant Koi is their beautiful outdoor covered patio. It's truly a hidden gem in Aix-en-Provence, providing a tranquil and serene atmosphere for dining.
Overall, the vibe is one of tranquility with a sleek Japanese aesthetic. Everything is beautiful – from the place to the food and the cocktails.
Pricing and Value
How much will you spend at Restaurant Koi in Aix? Prices in Aix are on the higher side as compared to most other places in France. To give you an idea of prices, here are just a few from my visit last week:
Food:
Miso soup € 5.10
Edamame € 5.00
Ramen € 8.50
Japanese spring rolls (4 pieces) € 8.50
Maguro (3 pieces) € 6.00
Truffle Maguro Sashimi (8 pieces) € 16.20
Tempura Ebi Spring Roll (8 pieces) € 12.80
Sweet Veggie (8 pieces) € 10.20
Mix of 20 pieces (Sushi, Sashimi, California, Harumaki) € 27.20
Kids Bento Menu € 12.00
Desserts range from € 7 for a sorbet to € 12 for a variety of desserts
Drinks:
Water carafe – free of charge
Glass of wine € 6.00 and up
Bottle of wine € 26 and up
Sake Mojito € 12.00
As someone who dines at Restaurant Koi in Aix regularly, I can confidently say that the prices are well worth the value you receive. While it's true that the prices may be slightly higher than some other sushi restaurants in town, the quality of the food, the exceptional service and the elegant surroundings more than make up for it.
At Koi, you can expect to receive top-notch ingredients and expertly crafted dishes that truly showcase the flavors and traditions of Japanese cuisine (with a French twist).
And while the prices might be a bit higher, the food is delicious and beautifully crafted, so you definitely get your money's worth.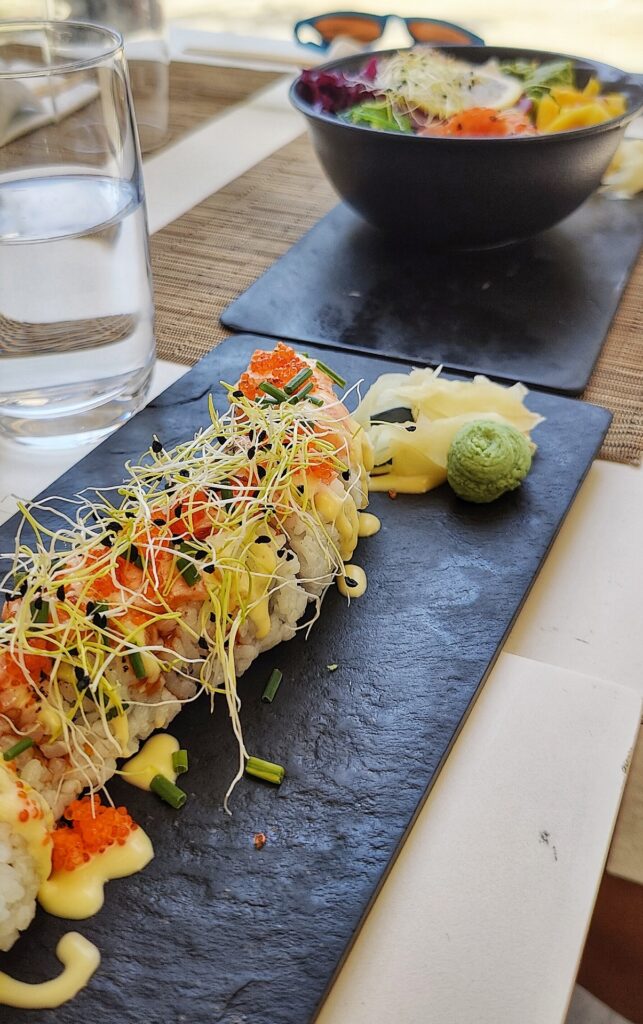 In fact, when you consider the overall experience that Koi offers, I believe that the prices are actually very reasonable. From the stunning decor and tranquil atmosphere to the attentive service and mouth-watering food, Koi truly provides a dining experience that is worth every penny (I mean, every centime!)
Tips from a local who eats at Koi
Here are some of my tips about Restaurant Koi in Aix-en-Provence:
Make reservations especially for weekends and during the high season (May through September) and definitely if you want to sit on the patio.
Wondering if this restaurant is family friendly? It definitely is. They provide high chairs for small children and offer a kids menu.
Koi's patio is covered so you don't have to worry about sunburn or being caught in the rain.
Are you vegan or vegetarian? I have dined with my vegan friends here and they are able to cater to your needs. Just let them know your dietary preferences when you make a reservation and before you place your order.
Let's talk about soy sauce served in sushi restaurants in France. You get two types of sauce – a typical savory one but also a sweet syrupy one. Be careful before you pour into your soy sauce dish. I like to mix both together.
If you love the beautiful dishes at Koi (with the koi fish decorations on them) you can buy them to take home. Just ask the staff what they have in stock.
They do deliver if you cannot make it to the restaurant but still want to satisfy your sushi craving.
There is a QR code on each table. When you are ready to pay at the end of your meal, you can scan it and pay on your phone without waiting for your staff to bring your bill and a machine, if that is what you prefer.
Open every day.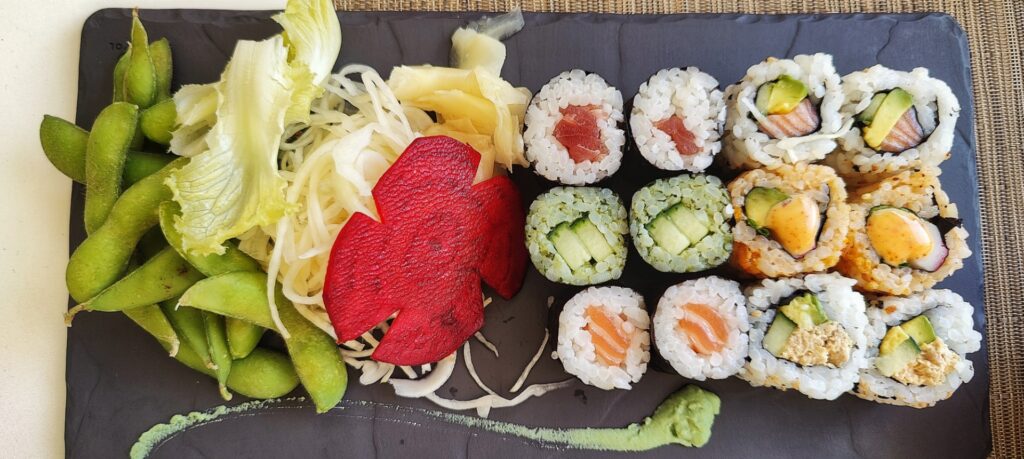 Restaurant Koi: Practical Info
Here is some practical information about Restaurant Koi:
Address:
4 Rue Paul Doumer, 13100 Aix-en-Provence, France (they used to have a second location on Cours Mirabeau but it is now closed even though it still shows up on their website)
Opening Hours:
Monday to Sunday: noon – 3:00 PM for lunch and 7 PM – midnight for dinner
Contact info & socials:
Tel: +33 04 42 50 05 05
Instagram: @koiaixenprovence
How to get there:
Getting to Restaurant Koi is a breeze, especially if you're already exploring the historic center of Aix-en-Provence.
Located in the heart of the city, the restaurant is within walking distance from pretty much anywhere. Even if you're parked at the popular Parking La Rotonde, it's only a short 5-minute walk to Koi Aix.
I always love strolling through the charming streets of Aix on my way to the restaurant, taking in the sights and sounds of the city before arriving at my destination.
Final Verdict: Overall Experience
To sum it up, Restaurant Koi in Aix-en-Provence is more than just a place to grab a bite to eat. It's an experience.
From the stunning decor to the exceptional food and top-notch service, Koi has everything you need for a truly memorable dining experience.
Whether you're looking to celebrate a special occasion or just want to enjoy a delicious meal with friends, Koi is the perfect spot.
And while prices may be slightly higher than other sushi spots in town, the value you get for your money is well-worth it.
Basically, if you're a sushi lover who happens to be in the south of France, Restaurant Koi in Aix-en-Provence should be at the top of your list.
The combination of exceptional food and service, along with a stunning atmosphere, make for an unforgettable dining experience. Trust me, you won't regret it!
Au revoir!