La Brûlerie Richelme: a Unique Coffee shop in Aix-en-Provence (Reviewed by a Local)
If you're a coffee lover and find yourself in the city of Aix-en-Provence in the south of France, make sure to pay a visit to La Brûlerie Richelme. This charming coffee shop is a local favorite, known for its exceptional coffee blends roasted in-house.
In this review, I'll be sharing my experience at La Brûlerie Richelme, from the rich aroma of their freshly roasted coffee beans to the unique ambiance of the café.
I'll cover everything from the atmosphere and quality of service to the taste and pricing. So grab your favorite mug and let's get started on our journey to find good coffee in Aix!
La Brûlerie Richelme: more than just a café
La Brûlerie Richelme is more than just a café. Besides serving coffee since 1983, this family-owned shop also sells loose leaf tea. And not only that!
La Brûlerie has become a landmark of Aix, with its in-house coffee roaster diffusing the aroma of coffee throughout the neighborhood.
Are you curious where the name of this coffee place comes from?
The French verb "brûler" means to burn. And "la brûlerie" is a French word for a roastery or roasting house.
The second part of the name Richelme comes from the square in which this coffee shop is located, called la place Richelme.
In turn, this square was named after Marie Rose Richelme, a benefactor of Aix and the niece of a famous French 19th century tenor Louis-Ferdinand Richelme.
Moreover, La Brûlerie Richelme is known for its artisanal approach to coffee roasting, which involves sourcing high-quality beans from around the world and roasting them in small batches to bring out their unique flavors and aromas.
La Brûlerie Richelme: My Review
I am a local who lives in the Old Town of Aix-en-Provence and I try to visit this coffee shop usually once a week.
So, read on to discover why La Brûlerie Richelme is a must-visit for coffee connoisseurs and why you are likely to find me here sipping a cup of java.
What's So Special About La Brûlerie Richelme
Besides the fact that they roast their own coffee beans in-house, the outdoor seating of the café offers a perfect vantage point of the farmers' market right outside.
If you come to La Brûlerie Richelme in the morning, you can experience the hustle and bustle of the local producers right in front of you.
Coffee, Tea and Hot Chocolate
The reason why I love this place so much is because of the artisanal approach La Brûlerie Richelme has towards coffee.
I am sure that the reason I first came in here was because I could smell the coffee beans as they were roasting.
But once I came inside, I was blown away by the carefully selected coffee beans and the craftsman-like atmosphere of the place.
And I am certain that I was mesmerized by the beans circling around in the roaster.
When you order your coffee, you will be asked more questions than usual. I like to drink espresso and normally all I need to say when ordering one is that I would like an espresso.
But in La Brûlerie Richelme, you will be asked what bean you would like to order, from what region, full-bodied or sweet. And the list goes on.
But do not be intimidated. You do not need to be a connoisseur of coffee in order to enjoy possibly one of the best coffees in Aix. The staff can guide you in your order so that you can have great coffee in all shapes and sizes, hot or cold.
And if you wish to buy some beans to take home, rest assured, you are buying a carefully-curated artisanal blend roasted locally. About 20 varieties of coffee beans are roasted right in this shop!
But if you are more of a Nespresso capsule kind of person, then you can buy them here too.
Tea lovers will also find something to rejoice in. You can order hot or cold tea, chai latte and matcha.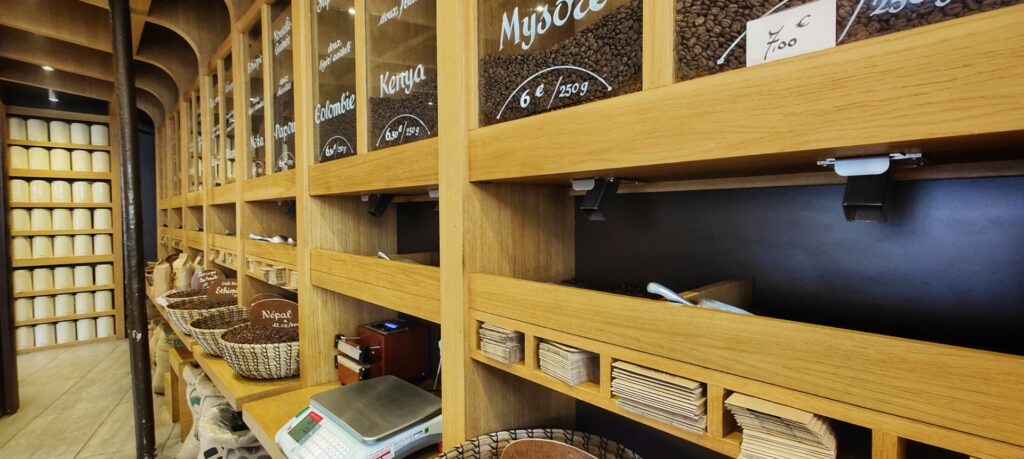 La Brûlerie Richelme also offers a large selection of loose leaf tea (about 140 kinds), including blue tea varieties, to take home.
And if you have kids with you, they will love the hot chocolate here. You can choose from small or large sizes, with or without Chantilly cream. And you can even ask for a special flavor, like cherry or winter spice. Delicious!
Every time I come here, my drink is always served with a small chocolate on the side. And each coffee always comes with a glass of water, as it's often done in France.
Service
I have to say that the staff at La Brûlerie Richelme is exceptionally friendly and knowledgeable. I am not sure if it is the fact that this place is family-owned or for another reason.
I love how they are always ready to explain the intricacies of the coffee beans I am thinking of buying or a new tea I wish to try.
The knowledge of the staff and their love of their craft shines through every interaction with their customers.
And not only that! I never have to wait long for my coffee after I order. They are prompt, accurate and super friendly. That is probably why I keep on coming back here every week.
Atmosphere
I love how the interior of La Brûlerie Richelme is decorated in a very practical way. It kind of reminds me of those old apothecary shops, except this one is all about coffee (and tea).
I love watching the roasting machine as it turns. I love the smell of the coffee beans roasting.
But most of all, I like to sit outside and have the front row seat to the show that goes in front. I am talking about the farmers' market.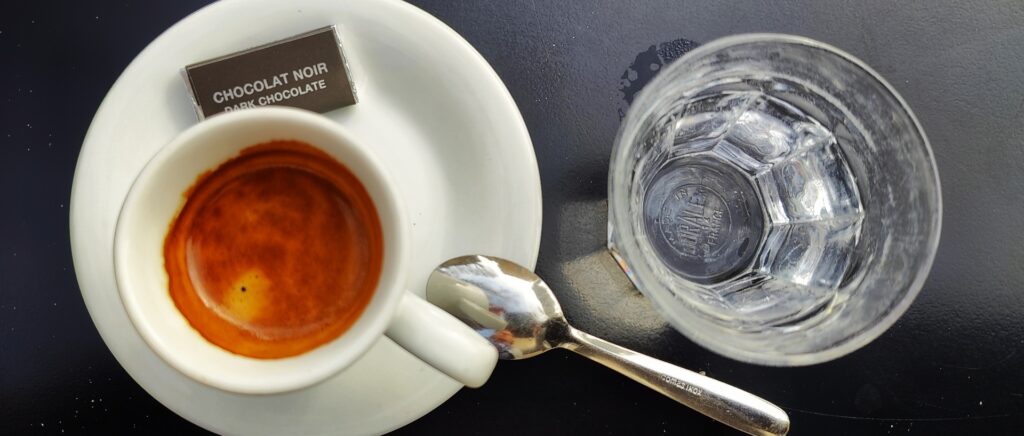 As long as I am there in the morning (especially on Tuesday, Thursday or Saturday) I will catch some sort of market activity going on.
There is not a huge amount of seating available at this café. It is a small establishment but well worth it.
Pricing and Value
How much will you spend at La Brûlerie Richelme? To give you an idea of prices, here are just a few from this year:
Espresso € 2.00
Cappuccino €4.20
Tea €3.00
Chai Latte €4.30
Iced Matcha €4.50
Small Hot Chocolate €2.00
Large Hot Chocolate with Chantilly €4.40
Aix-en-Provence is known for being more expensive than some other places in France.
But let me assure you that the value for the money you get here is great. Especially since the prices at La Brûlerie Richelme are on par with the rest of Aix but the quality of the coffee and tea is superior.
So you get an excellent value for what you pay.
I love that this place has been around for decades and is family-owned. I love that they roast their own coffee beans onsite.
I love the amount of carefully selected choices of coffee and tea La Brûlerie Richelme has to offer.
And I love that I can watch the market while sipping on my favorite coffee. This makes a great place for people-watching in Aix-en-Provence. And people-watching is one of the favorite pastimes of the inhabitants of Aix and visitors alike. For sure it is mine!
Local's Tips
Here are some of my tips about La Brûlerie Richelme:
If you want to watch the farmers' market from this coffee shop, come in the morning ideally on Tuesday, Thursday or Saturday. 
Be aware that the closest market stall to La Brûlerie Richelme is a fish stall. So if you do not like a strong seafood smell or are allergic to seafood, you are best to visit this coffee shop after lunch when the market is long gone and the streets washed clean by the city workers.
If you are here on market mornings, the place will be very high energy. Those who do not like crowds are best to visit first thing in the morning or after lunch.
If you want to buy a unique gift for someone back home, I highly recommend buying a special blend of in-house roasted coffee beans. Or loose leaf tea for the tea lovers in your life.
I would not suggest this place if you wish to get some work done. It is a small place with a small amount of seating mostly outdoors. The chairs are high and tables are just big enough to enjoy a coffee and be on your way. There is nowhere to plug in your laptop. Plus it is very noisy and busy due to its location.
This coffee shop is closed Sundays and Mondays.
La Brûlerie Richelme: Practical Info
Here is some practical information about La Brûlerie Richelme:
Address:
1 Place Richelme, 13100 Aix-en-Provence, France
Opening Hours:
Tuesday to Saturday: 8:30 AM – 7:00 PM
Closed Sunday and Monday
Contact info & socials:
Tel: +33 04 42 23 55 27
Instagram: @la_brulerie_richelme/
How to get there:
La Brûlerie Richelme is located in the heart of Aix-en-Provence, making it easily accessible, especially on foot. 
But you can also easily get here by bike, motorbike or the local tiny bus called La Diabline that goes around the historical center of Aix.
If you are living or staying in the historical center then your walk here should not be 10 minutes or less.
If you are driving in and park at La Rotonde, then your walk in will be around 10 minutes. Unless of course you are like me and will get distracted by all the shops and activities going on around.
Because – yes – this town is very happening! There is always something fun and exciting going on in Aix-en-Provence.
Final Verdict: Overall Experience
La Brûlerie Richelme is a must-visit destination for coffee lovers visiting Aix-en-Provence, as it offers a unique and authentic coffee experience.
I love this place mostly because they roast their own coffee in-house and I can sit and watch the farmers' market unfold right in front of me as I enjoy my coffee.
It's a great place for a quick break in your explorations of Aix. And you can also buy a great practical gift for your loved ones back home.
I give La Brûlerie Richelme 4.5 out of 5 stars for great coffee, unique atmosphere and friendly and knowledgeable staff. If it had enough space for digital nomads to work, I would give it full marks.
So if you are looking for some really good coffee, roasted in-house, with a view of the market, make sure to stop by La Brûlerie Richelme!
See you there! À bientôt!